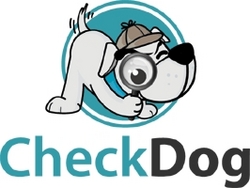 ... the platform outgrew the name ...
San Francisco, CA (PRWEB) October 1, 2010
spellr.us - the 18 month old website content integrity platform - announced a rebrand of their product to "CheckDog" earlier this week at the TechCrunch Disrupt San Francisco conference.
Kevin Garber, founder of CheckDog explains that the platform outgrew the name, "We initially developed spellr.us as a simple website spell check tool. However over the last 18 months the platform has evolved into a robust content check platform that includes functionality such as broken image, broken link, and broken file download detection in addition to the sophisticated ranked spell checked functionality. The spellr.us name locked the platform into a specific limited perception in the marketplace."
Garber also explained that the .us domain has fallen out of favour and sometimes created confusion.
"CheckDog more accurately represents the platform as a product that assists editorial teams and web editors with multiple elements of their web content. There are extremely few tools available to web editorial teams relative to the amount of content that is published daily. We aim to continue to develop CheckDog to effectively fill this gap."
There will be no changes to the pricing plans.
About CheckDog:
CheckDog is an award winning web-based website content integrity monitoring platform. CheckDog monitors websites and reports back on genuine spelling errors, broken links, broken images and other website errors. CheckDog utilises proprietary spellFOCUS technology to identify genuine spelling errors. CheckDog clients include News Corporation Australia, theaustralian.com.au, news.com.au, dailytelegraph.com.au, NineMsn, BOE Systems, Victoria University, Sydney Ports, and the National Academy of Sports Medicine.
http://www.checkdog.com
About TechCrunch Disrupt
TechCrunch Disrupt San Francisco (http://disrupt.techcrunch.com), was held Sept 27-29 2010, at the San Francisco Design Center Concourse. TechCrunch Disrupt attracted over 1,500 leading technology innovators and investors and over 150 new startups. The format combined top thought-leader discussions with new product and company launches.
###