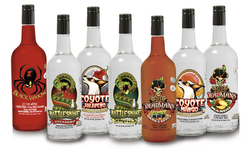 We want to take the liquor industry back to its traditional, smaller ways of doing business
Jacksonville, FL (Vocus) April 1, 2010
As the liquor industry continues to consolidate into a few multi-billion dollar conglomerates – mostly based overseas – is there still room for a small, hand-crafted American distillery?
According to Michael Gerard, an Australian transplant who has come to intensely love the American way of doing business, the answer is an enthusiastic "Yes!" Gerard is launching Spirits of the USA, the first full line of American-made, hand-crafted premium spirits – all-USA-produced except, quite rightly, tequila.
According to Wine and Spirits Daily, "Restaurants and consumers are seeking unique products more than ever." But, "large distributors are mainly concerned with two or three flagship brands." In addition, consolidation among suppliers and wholesalers, "is keeping the wine and spirits industry in a constant state of flux, bringing uncertainty to the market, limiting competition, and making prices higher."
Spirits of the USA wants to buck that trend. "We want to take the liquor industry back to its traditional, smaller ways of doing business," explains Gerard, "a time when suppliers, proprietors and distributors all worked together – and had fun doing it. That's why we're forming relationships with small regional distributors across the country."
Headquartered in Jacksonville – The Company has selected Jacksonville, Florida, as the headquarters for its operations. The Jacksonville facility will handle distribution, warehousing and all administrative functions. "We chose Jacksonville for its business-friendly climate, state-of-the-art port operations and its easy distribution access to many important East Coast markets," explains founder and CEO, Michael Gerard.
The Company's premium vodkas, tequilas, rums, gin and non-alcoholic drinks will be initially available in Florida and Missouri and then introduced to the rest of the country in the months ahead. The Company will add bourbon, whiskey plus new rum and vodka flavors later this year.
Winning awards – Spirits of the USA has test marketed its unique line of spirits for the last two years. In that time, its products have received critical acclaim in international tasting competitions, including:

Distinctly American – The Company's products celebrate iconic American characters. "This country has so much to celebrate, yet we are captivated by this idea that quality spirits come from overseas," says Gerard. To underscore that point, the Company's point-of-sale marketing features witty bits of Americana. One pro-American table card proudly proclaims: "Feel the difference when the air you breathe and the spirits you drink are united at last!"
Spirits of the USA Products include:
Black Widow Gin
Coyote Vodka
Coyote Ice Peppermint Vodka
Coyote Jalapeno Vodka
Coyote Mango Vodka
Dead Man's Dark & Spicy Rum
Dead Man's Mango Rum
Rattlesnake Tequila
Rattlesnake Jalapeno Tequila
Runner Energy Drink
About Spirits of the USA – Spirits of the USA LLC is a privately held company headquartered in Jacksonville, FL. The Company was founded in 2007 by Michael Gerard, a veteran of the hospitality and distributing industry for over 20 years.
Spirits of the USA was formed to produce the world's first and best full line of ultra-premium liquor. All of its products, except tequila, are produced and packaged in the United States with a "craft distillery" approach.
The product line is being initially rolled out in key U.S. markets through small regional distributorships. The company hopes to extend its reach to the global market within its first three years.
Design Coup Inc. of Atlanta, GA, is handling marketing, design and promotion for the new product line.
To learn more, contact Michael Gerard at 886-795-5463.
# # #