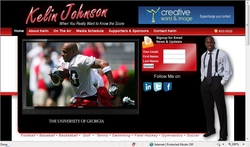 These are great kids who work hard on the field, but are mostly left unprepared for being in the spotlight and leveraging the platform for doing good that they have
Atlanta (Vocus) July 2, 2010
The transition from college athlete to positive role model and media personality is a dream that often eludes today's star college athletes and players. Now a team of seasoned media and sports professionals has joined forces to help. They are launching a complete athlete training and development program that will be available to both student and alumni athletes and players at universities across the country.
"These are great kids who work hard on the field, but are mostly left unprepared for being in the spotlight and leveraging the platform for doing good that they have," said Gil Tyree, the veteran television sportscaster who was most recently Sports Director at CBS Atlanta. "They have the potential to give back in very positive ways, to their teams, their schools, their conference and their communities. They need the communication and media savvy along with the hands on mentoring and support that this program provides."
Media Playbook™ Positive Performance Program has been developed by Creative Word and Image, an Atlanta marketing communications and social media strategy agency, along with Talent Dynamics, the Dallas-based firm that is the leading broadcast and corporate media training and development company in the country, as well as Tyree's PositivePub organization. These three have been joined by former NFL Player Ray Ellis, who now heads the Phoenix-based Sports programming division of Voice America, the internet video and audio programming company, along with a who's who roster of media personalities and former athletes who have successfully achieved media careers in sports and beyond.
"We have created a single program to help turn great athletes into even greater brand ambassadors," said former television news executive and media trainer, Michael Shoer, who is managing director of Creative Word & Image Inc. "The thread that ties all of the disciplines together is the personal mentoring that each athlete will receive directly from a matched professional." The program includes writing, communication, media skills, and as well as personal responsibility, individual athlete brand development, social media marketing, and after the first year, placement services for broadcast, cable, digital network media recruiters and corporate brand marketing agencies.
"These athletes will be primed for a lifetime of giving back positively," said Tyree. "And we intend to share all of the knowledge and insights of our collective experience and help these athletes make positive contributions off the field for today and tomorrow."
"Just take a look at what a guy like Kelin Johnson, a former Georgia Bulldog football star who made it through the NFL draft is now doing with our mentoring and support. He's got a sports news site on the internet kelinjohnson.com, a local television segment (Kelin's Korner) and come this fall is going to be hosting a weekly radio and internet broadcast show," adds Tyree.
"Kelin came to our attention well after leaving college, and we're working with him now," said Shoer. "He's made a great start in sports media, Imagine where this program can take him and other athletes who aspire to establish media personalitties for themselves that will enhance the image of their teams, schools and conferences."
The Media Playbook™ Positive Performance Program has received initial corporate underwriting, and is seeking additional private benefactors for participating athletes and corporate sponsors and advertisers to fund the media properties that will provide a training ground and real media showcase for each athlete. The Media Playbook™ program launches this Fall in Athens, then will be extended to other university locations.
# # #