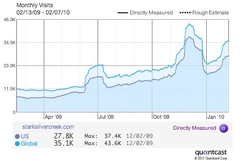 As media continues to change and evolve, it is forward-thinking outlets like StarkSilverCreek that are positioned to show us the way to the future.
San Jose, CA (PRWEB) February 17, 2010
Blue Lizard Group Media is pleased to announce FY2009 results for its network of west coast living web properties. Readership grew 71% year-over-year as of January 31, 2010 to 300,000 with the majority based in the San Francisco Bay Area.
StarkSilverCreek - All Things West Coast, the company's flagship brand, is one of the fastest growing digital media properties. Readers value inspired and thoughtful coverage of the west coast including arts (film, stage), wine country, travel, and technology.
Alexa Internet, Inc. ranks starksilvercreek.com 93,401 in the US and 285,000 globally. According to Quantcast, readers are affluent (28% earn $100K+), highly educated (67% college/grad school). Generation X and Y (Millennials) account for 68% of visitors.
Impact on Theater and Arts
"As the flagship regional theater for San Jose and surrounding communities, San Jose Rep is delighted that StarkSilverCreek has taken an active role in covering theater and the arts in the Bay Area. We've worked together on several video projects including The Kite Runner, The 25th Annual Putnam County Spelling Bee, Second City, Groundswell and The Weir, in addition to behind the scenes segments." said Rick Lombardo, artistic director San Jose Repertory Theatre. "As a result, we've been able to reach out to a new base of fans that appreciate the innovative social networking and Web 2.0 approach that StarkSilverCreek brings to our industry. As media continues to change and evolve, it is forward-thinking outlets like StarkSilverCreek that are positioned to show us the way to the future."
Impact on Independent Film
Jeffrey Goodman, filmmaker and director of The Last Lullaby starring Tom Sizemore said, "StarkSilverCreek is all about passion. They know their stuff and when it comes to in-depth interviews, keen observations, and simply excellent taste, I know no better. Need inspiration or a great filter in your life? We're all lucky to have them out there beating the drum for independent film, arts and theater."
Impact on Wine
"StarkSilverCreek is an excellent media resource to help get the word out about news and special events in the world of fine wine," said Joel Quigley, President and Co-Founder of Creative Furnace. "Loni Kao Stark's WineTube TV interviews and features are always fun, informative and bring the story to life, which is so important in the visually hungry world of Web 2.0."
StarkSilverCreek: Facts and Figures
-- Average quarterly growth: 36%
-- 44,637 unique readers during January 2010
-- Projected impressions for BLG Media in 2010: 1.4M
-- #1 market: San Francisco Bay Area (including San Jose, Berkeley, Palo Alto)
-- Reader profile: 59% male / 41% female; affluent, 28% earn $100K+; highly educated, 67% college/grad school; 68% 18-49 years old
-- # of regular contributors: 7
-- 4 Web-based shows: WineTube TV, On Location, StarkSilverCreek Presents, Loreto Live TV
Key Highlights
-- Launched Theater & Arts Guide now covering over 25 venues including San Jose Rep, Opera San Jose, SF Symphony, Cirque du Soleil, Berkeley Rep, A.C.T. and TheatreWorks
-- Increased reach via new syndication channels: Google News, Amazon Kindle
-- Added seasoned contributors including a tech CEO, an Emmy Award-winner and former Silicon Valley executives
-- Engaged local community to raise over $4,000 for the Internado School in Loreto, Baja California Sur, Mexico
-- Indexed pages on Google increased 50% to over 3,000
-- Released StarkSilverCreek app for Apple iPhone (search "SSC" in iTunes)
-- Referenced in high profile tech Web sites and newspapers including: Engadget, Laptop Magazine, Pittsburgh Tribune-Review, The Week
-- Produced in-depth video features including: Inside Cirque du Soleil OVO, Heroes & Hearts, Bill Graham Foundation event at The Fillmore, AT&T Jazz Festival, Great American Food & Music Festival, South First Fridays in San Jose, Crush in Napa, Backstage at San Jose Rep and Opera San Jose
-- Featured guests on SSC shows: Marc Lhormer (producer, Bottle Shock), Jeffrey Goodman (film director), Rick Lombardo (artistic director, SJ Rep), Larry Hancock (general manager, Opera San Jose), Julia Brothers (actress), Barzin Akhavan (actor), Ayelet Waldman (author), Christy Altomare (actress), Peter Van Norden (actor), Pam Baer (board member, SFGH Foundation)
Wide Reach and Distribution
In addition to the StarkSilverCreek.com web site, content is available on Facebook, Amazon Kindle, Apple iTunes and YouTube. StarkSilverCreek is also a Google News source. Stories are often featured alongside traditional news publications.
About StarkSilverCreek - All Things West Coast
A west coast lifestyle publication covering wine, travel and the arts founded in 2008, StarkSilverCreek features stories, editorials, news and videos that aim to inform, inspire and engage its passionate community of 300,000 readers. All with a dash of Web 2.0 inspiration. "Twice as fun, but only half as smart." http://www.starksilvercreek.com.
About San Jose Repertory Theatre
San Jose Rep is the premier, non-profit, professional theatre company in the South Bay, presenting six main stage productions each year. As a major contributor to South Bay's cultural community for 29 years, the Rep's mission is to engage, entertain and inspire people. The Rep produces innovative theatrical performances that offer fresh perspectives into the human condition, educational programs that promote life-long learning, and outreach initiatives that benefit our diverse community. For more information, visit http://www.SJRep.com.
About Jeffrey Goodman
After living in Los Angeles for seven years, Jeffrey Goodman returned to his hometown of Shreveport, Louisiana to direct The Last Lullaby. Co-written by the creator of The Road to Perdition and starring Tom Sizemore and Sasha Alexander, The Last Lullaby was filmed entirely in Shreveport and financed by 48 local investors. After much acclaim for The Last Lullaby, Goodman is now at work on his follow-up film, Peril. http://www.thelastlullaby.com.
About Creative Furnace
Creative Furnace specializes in integrated marketing and communications, high-concept lifestyle events and strategic consulting. With a core focus on fine wine, music, fashion and other lifestyle businesses, the firm's mission is to put its creative fire into everything it touches, rise above the chatter in a crowded market place, and deliver ROI for its clients. To learn more about Creative Furnace's full range of services and cross-promotional event sponsorship opportunities, contact Joel Quigley at 707.495.0831 or joel(at)creativefurnace(com)com.
Press contact:
Chris Wright
Email: chrisw@starksilvercreek.com
# # #