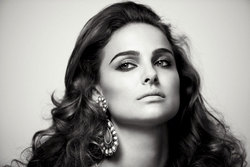 "We are thrilled to launch Starworks Artists with Lisa Walker and Samer Fawaz and plan to go global with the initiative," said James Grant, Starworks Group CEO
New York, NY (PRWEB) July 27, 2010
Starworks Group is pleased to announce a new division, Starworks Artists, which will specialize in the representation, branding and development of creative talent, including stylists, hair and make-up artists, set designers and motion artists. The founders of Tenfold Talent, Lisa Walker and Samer Fawaz, join the team as partners in Starworks Artists.
Starworks Artists is the next level of talent representation. Starworks Artist will leverage all of Starworks Group's capabilities in communications, digital and branding to enhance the careers of the artists we represent.
"We are thrilled to launch Starworks Artists with Lisa Walker and Samer Fawaz and plan to go global with the initiative," said James Grant, Starworks Group CEO.
"Elevating an artist's career has always been our mission. This partnership with Starworks Group gives us a way to elevate the method in which we grow those careers," said Lisa Walker, Starworks Artists Partner.
Starworks Group is a unique global communications agency that delivers complete communications solutions to create an intelligent, meaningful dialogue between premium brands and their audience.
###