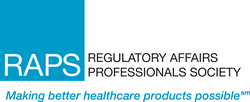 Regulatory professionals in the healthcare product sector are critical to ensuring safe and effective medicines and medical technology, but it is a profession that is generally not in spotlight
San Jose, CA (Vocus) October 26, 2010
A new special report from the Regulatory Affairs Professionals Society (RAPS) finds that regulatory professionals in the healthcare product sector report being highly valued by their employers even though they say their work is not fully understood. The report, titled Regulatory Professionals: Valued Strategic Partners, gauges the awareness and perceived value of the profession. It was released during the 2010 RAPS Annual Conference & Exhibition, taking place through 27 October in San Jose, CA.
Regulatory professionals in the healthcare product sector work to ensure the safety, effectiveness and availability of products used every day by people all around the world, including medical devices, pharmaceuticals and biotechnology. But many outside the regulatory community have never heard of the profession and have little understanding of the regulatory process surrounding healthcare products. Even professionals involved in related healthcare fields may not fully understand the scope and value of what regulatory professionals do.
"Regulatory professionals in the healthcare product sector are critical to ensuring safe and effective medicines and medical technology, but it is a profession that is generally not in spotlight," said RAPS Executive Director Sherry Keramidas, PhD, CAE.
In an effort to gauge the awareness and perceived value of regulatory expertise, RAPS collected data from regulatory professionals around the world on how they believe they are perceived within their organizations. These data were collected as part of the 2010 RAPS Scope of Practice & Compensation Survey, with responses from more than 3,120 professionals spanning 55 countries.
While the critical strategic value of the regulatory profession may not be universally or fully understood, the results indicate that the profession's importance is increasingly apparent, particularly among those at the executive level.
Respondents were asked to rate the level of awareness of the scope of practice and perceived value and importance of regulatory professionals by senior and executive management in their organizations. Results indicate that regulatory professionals perceive that they are valued by their organizations.
Using a five point scale where 1 = very aware/highly valuable and 5 = not at all aware, not at all valuable/important, regulatory professionals gave themselves an average rating for perceived value of 2.1, but a lower average rating of 2.6 for awareness. Awareness and perceived value of regulatory professionals were both rated slightly higher among senior level professionals, which may be due, in part, to greater access to senior management among higher level positions and greater awareness of how regulatory is linked to decision making.
Respondents also were asked whether regulatory professionals in their organizations are engaged in shaping their organizations' strategic and/or business directions; 81% indicated that regulatory professionals are involved in these areas.
For more information or to get a copy of the report, Regulatory Professionals: Valued Strategic Partners, contact Zachary Brousseau, senior manager, communications for RAPS at zbrousseau(at)raps(dot)org. For information about the 2010 RAPS Annual Conference, visit http://www.RAPS.org/ac2010. Follow conference updates on Twitter with the hashtag #2010RAPS.
Members of the working media who wish to cover the 2010 RAPS Annual Conference & Exhibition may register on site with valid press credentials.
Conference sponsors include: Abbott, BSI, Dassault Systèmes, GE Healthcare, Greenleaf Health, Makrocare, Parexel, QPharma, Tarius and TÜV SÜD America.
About RAPS
The Regulatory Affairs Professionals Society (RAPS) is an international membership organization of regulatory professionals in the rapidly growing medical device, pharmaceutical and biotechnology sectors. Regulatory professionals play vital roles in making better healthcare products possible. They work throughout the healthcare product lifecycle, ensuring these products are safe and effective, while driving organizational strategy and sound decision-making. RAPS supports these individuals and the regulatory profession by providing education and training, Regulatory Affairs Certification (RAC), professional standards, research, knowledge-sharing, publications, networking, career development opportunities and other valuable resources; and is committed to helping its members continually develop the knowledge and skills they need to excel. RAPS is headquartered near Washington, DC, with offices in Brussels and Tokyo. RAPS.org
# # #