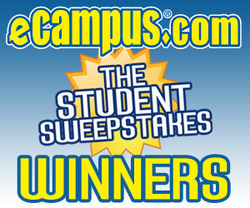 I was surprised to learn I had won. I will continue to shop at ecampus.com until I graduate.
Lexington, KY (Vocus) September 28, 2010
eCampus.com, America's full-service textbook superstore, is proud to congratulate Austin Head of Detroit MI, Rachel Brown of Fishers, IN and Huntington Wozniak of Henderson, NV, the winners of the eCampus Student Sweepstakes. eCampus.com continued to show appreciation to their customers by giving away some of the coolest new products on the market including one 16GB Apple iPad, one Cruzin Cooler scooter, and the brand new Xbox 360 with Kinect. Leveraging their extensive social media following, eCampus.com also gave away 22 gift cards from restaurants and retail stores.
In order to be deemed eligible for the giveaway, a student needed only complete an order at eCampus.com or become a member of the eCampus.com Facebook page at http://www.facebook.com/ecampusdotcom between August 9, 2010 and August 31, 2010. Winners were randomly chosen.
Austin Head was awarded a brand new Xbox 360 equipped with Kinect, Microsoft's new controller-free gaming and entertainment experience and he had this to say about his win, "I was surprised to learn I had won. I will continue to shop at ecampus.com until I graduate." Rachel Brown won the 16GB Apple iPad, and Huntington Wozniak was the winner of the Cruzin Cooler.
"At eCampus.com, we're always happy to be giving away cool new technology to our customers." said Matt Montgomery, President and CEO of eCampus.com, "We enjoy rewarding our loyal customers with great deals on textbooks, being able to give away an iPad, Xbox and Kinect, and a Cruzin Cooler is just an added bonus."
eCampus.com's goal is to provide textbooks, easy, fast, and cheap, and with their textbook rental program, they are doing just that. Students can rent textbooks for a fraction of the list price and eCampus.com pays the shipping cost of returning the book. Students all over the country have been embracing this new rental program as eCampus.com rented more books this fall than in any other period in eCampus.com history.
About eCampus.com
Since its founding in July of 1999, eCampus.com has grown into a major online retailer providing cheap textbooks for college and high school students. eCampus.com's stated mission is to provide the easiest, fastest, and cheapest way for college and university students to rent textbooks, buy textbooks and sell textbooks. eCampus.com believes the Internet buying experience should be fun and that shopping for textbooks should be as fast and convenient as possible. The company makes a personal commitment to every customer that eCampus.com will be the best source for everything they need.
###