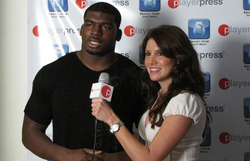 Miami Beach, FL (Vocus) February 7, 2010
The Beacon Hotel, located in the heart of the action during Super Bowl week in Miami's South Beach, has partnered with Player Press, LLC, a cutting-edge sports media company, to create a media center that has drawn interest from professional athletes and fans alike during the run-up to the Super Bowl at Miami's Sun Life Stadium on Sunday.
The Beacon, located at 720 Ocean Drive in South Beach, across the street from the pulsating Super Bowl Festival and beach concert arena, plays host to the Player Press Media Center. Professional athletes, particularly NFL players who have flooded the area in the week that spans the Pro Bowl and the Super Bowl in South Florida, are expected to continue stop by the Beacon to give video interviews at the media center and hobnob with fans and teammates.
Amongst some of the athletes that have already visited the media center are NFL Defensive Rookie of the Year and Outside Linebacker for the Houston Texans Brian Cushing, Super Bowl Champion Outside Linebacker from the Pittsburgh Steelers Lawrence Timmons, Defensive End from the Detroit Lions Cliff Avril, and Fullback from the Atlanta Falcons Jason Snelling. More NFL athletes are expected to visit this South Beach Hotel during the remainder of the week.
Built in 1937, the Beacon Hotel South Beach was designed with the flair and magnificence of the Art Deco era. Renovated from 2004-06, the Beacon offers 73 beautifully decorated rooms and two VIP Suites all featuring sparkling marble floors, and modern chic décor.
Player Press, LLC one of the leading sports marketing firms is the Internet leader in sports blogging, featuring more than 50 professional athletes and over 200 individual team and fan websites.
###