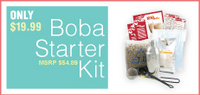 City of Industry, CA (Vocus) July 1, 2010
Lollicupstore.com, an online supplier of beverage products and restaurant solutions, is giving customers a great reason to log online and start shopping. This July, customers can expect to see special discounts on some of Lollicup®'s most popular products. To kick off summer, when customers buy two cases of Lollicup® mango, peach, passion fruit, strawberry, or raspberry syrup, they receive $3.00 off their purchase. This is great for anyone looking to stock up on Lollicup® syrup for the rest of summer. Additionally, there will be a special of buy two cases, and get $2.00 off per case of tapioca/boba. And, if that isn't enough, customers can also expect to see a discount on Torani salted caramel cases.
For those customers who want to make their favorite drinks, Lollicupstore.com is selling Boba Starter Kits and Ice Coffee Kits at a special low price. The popular Boba Starter Kit is only $19.99, which is an extraordinary discount from the manufacturer's suggested retail price of $54.89. Each Boba Start Kit includes milk tea powder, tapioca, cocktail shaker, measuring spoon, large straws, and more. In addition, for all the coffee lovers out there, Ice Coffee Kits are on sale for the low price of $54.95; from the manufacturer's suggested retail price of $66.74. Each Ice Coffee Kit includes Gavina Northwest Ground Coffee, Da Vinci Hazelnut, Vanilla, SugarFREE Vanilla syrups, and more.
To help meet everyone's beverage and restaurant solution needs, Lollicupstore.com is also bringing in new items to its line-up of high quality products. Just in time for July, Lollicup® will be adding tapioca starch and sweet potato starch to its online store. Tapioca Starch is perfect for making delicious boba, while Sweet Potato Starch is ideal for noodles and to dredge meat prior to frying. Also, customers can expect to see the new Vitamix blender called "The Quiet One" in the catalog this summer. To kick off the addition of its new item, for a limited time, customers will receive a jar advance container for free with the purchase of the new Vitamix "The Quiet One" Blender. Its noise reducing shield, pre-programmable mixing cycles, and enhanced blade design allow users to handle thicker ingredients easily and in one-third of the average processing time.
Lollicupstore.com offers a wide variety of specialty beverage products at discounted prices from suppliers such as Italian flavor master Torani syrup. Lollicup® is always looking for new ways to meet all of its customer's beverage and restaurant solution needs. So log on today to take advantage of Lollicupstore.com's low prices and special offers. Additionally, for exclusive deals on Torani syrup and other products, be sure to sign up online for the Lollicupstore.com coupon mailing list.
About Lollicup® USA Inc.
Lollicup® USA Inc is the largest distributor in United States of Torani syrup, sauces, frusia, and caffioco. Headquartered in City of Industry, Lollicup® is also known for its retail bubble tea drink stores under the Lollicup® Coffee and Tea and Lollicup® Tea Zone brands. Press release produced by Cybertegic - an Internet marketing services agency that specializes in search engine optimized press release marketing (SEO marketing).
# # #