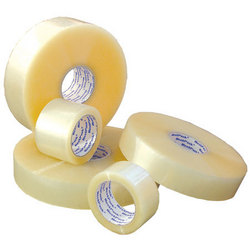 Rancho Cucamonga, CA (Vocus) March 28, 2010
Given the ongoing economic woes many brands are experiencing, saving money and cutting costs is perhaps more essential than it has ever been. However, as a result of the extension of the Section 179 deductions by the HIRE Act, companies have the opportunity to take advantage of substantial tax breaks by making certain purchases for their businesses. BestPack.com's selection of carton sealers and case erectors qualify for the deductions, making this an ideal time to invest in new equipment for any packaging needs.
Under Section 179 of the tax code, companies that purchase less than $800,000 worth of qualified equipment in a year are allowed to write off up to a maximum of $250,000 of their taxes for 2010. Additionally, the extension of the law also continues the bonus depreciation of 50% for qualifying assets, which occurs in addition to regular first-year depreciation.
For customers of BestPack.com, this translates to immediate deductions on equipment they may already be leasing from the packaging system manufacturer, while new purchases from both new and existing clientele are able to secure the aforementioned 50% bonus depreciation. The accelerated depreciation means companies can save their hard earned tax dollars for other, equally important business related expenses while acquiring the carton sealers and case erectors they need for packaging their goods.
BestPack.com has been helping businesses save through Section 179 of the tax code since it was first introduced. Over the course of the length of a lease, a company utilizing equipment from BestPack.com could save tens of thousands of dollars. Now is as good of a time as any to take advantage of BestPack.com's selection of sealing equipment to secure both your company's goods as well as its wallet for years to come.
With over 80 models of carton sealing machines, BestPack has been a global industry leader in packaging equipment solutions for nearly 40 years. Proud of its reliable, cost-effective, and highly efficient packaging equipment solutions, Bestpack.com also manufactures other packaging equipment such as conveyers, sorters, drop loaders, shrinkwrappers, case erectors, box formers, stretch hooders, and palletizers. Sign up with the company's newsletter or simply visit BestPack's official blog for the latest news in the packaging industry.
About BestPack.Com
Based in Rancho Cucamonga, CA, BestPack is the industry's leader in packaging equipment machinery, carton sealers, carton erectors and carton sealing tapes. In addition to providing customized packaging solutions, BestPack is the most reliable and dependable manufacturer of all product packaging systems. Press release produced by Cybertegic.com - an Internet marketing services agency that specializes in search engine optimized press release marketing (SEO marketing).
###