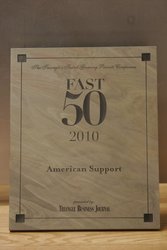 We are honored to be recognized by Triangle Business Journal as one of the fastest growing companies in a city where the competition is tough
Chapel Hill, NC (Vocus) November 9, 2010
American Support, a provider of back office services to over 400 cable, phone and Internet franchises in 26 states, was named one of the 50 fastest growing private companies in the Triangle at Triangle Business Journal's 18th annual Fast 50 Awards ceremony on November 4. The Fast 50 Awards honor companies for entrepreneurial excellence and achievement in the past year.
"We are honored to be recognized by Triangle Business Journal as one of the fastest growing companies in a city where the competition is tough," said American Support President and CEO, Matt Zemon. "This Fast 50 award highlights the significant growth we've experienced over the past three years – growth that we attribute to our focus on supporting America's small town cable operators with a 100% American customer service team."
The Fast 50 rankings were determined by an analysis of three-year revenue and profit metrics performed by accounting giant PricewaterhouseCoopers, one of the events sponsors. More than 100 Triangle-based companies submitted financial data to PricewaterhouseCoopers, which analyzed the numbers and kept them strictly confidential. The only information provided to Triangle Business Journal were the top 50 companies' names and rankings.
"For 18 years, the Fast 50 Awards has been the benchmark by which fast growing private companies in the Triangle judge their success," says Charlene Grunwaldt, publisher of Triangle Business Journal. "This year's winners are particularly impressive because, in addition to a competitive landscape, these firms have overcome a challenging economy and continued to report growth in revenue and profits. These 50 companies are clearly the businesses to watch in the future."
In addition to PricewaterhouseCoopers, sponsors for the Fast 50 Awards included Bank of American and USFalcon.
"Our biggest success last year was moving to a 100 percent home-based customer service model," Zemon continues. "With home agents we are able to recruit from across the country and get the best possible talent to support our customers. Because we provide our employees with a living wage as well as excellent health benefits and save the typical employee 250 hours of commute time, we now receive over a thousand applications every time we recruit."
In the past 12 months American Support has focused on ways to grow their clients' revenue while decreasing their operational costs. Two examples of this is that all of their customer service representatives have gone through extensive sales training and they launched their American Technical Support product providing provisioning and diagnostics along with fault and performance monitoring at 25 percent less cost than other leading solutions.
For 2011 American Support has already secured contracts that will double the amount of subscribers that they serve and have recently launched the American Leadership School to help transition their mid-level managers into positions of leadership as they continue to grow.
About American Support: Powered by CSG Systems
American Support is a Chapel Hill, NC-based company whose mission is to help video, voice and data companies succeed by operating efficiently, consistently and with excellent customer service, making life better for its clients, employees, investors and families, while supporting its country.
American Support, powered by CSG Systems, currently supports over 400 cable systems in 26 states.
In January 2008, American Support was named Preferred Billing and Customer Care Provider for the National Cable Television Cooperative (NCTC). American Support was formerly known as Element Customer Care, powered by CSG Systems. For more information, please visit: American Support.
From coast to coast, American Support's team provides three primary services for its customers:

American Subscriber Management: Powered by CSG Systems, American Subscriber Management provides software and services based solutions that help its clients increase revenue by better engaging, billing and transacting with their customers.
American Customer Service: US-based video, voice and data customer care handling all subscriber phone and email contacts with an emphasis on increasing ARPU and decreasing subscriber churn.
American Technical Support: US-based technical support and NOC services along with Sigma Systems Device Provisioning Manager, NetOmnia™ Fault and Performance Monitoring and a private label email solution.
###