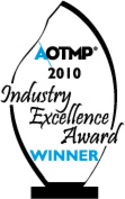 For the first time, there is a way to solve this complex cost displacement issue.
London, New York, Tokyo and Macau (PRWEB) February 23, 2010
MDSL, the leader in international telecom expense management solutions, has been awarded the 2010 AOTMP Industry Excellence Award for TEM Supplier Innovation of the Year in recognition of its new product that revolutionizes the management of VoIP off-net calls.
The solution uniquely solves a complex cost displacement problem faced by organizations with VoIP networks when hop-off or off-net calls are routed via the Public Switched Telephone Network (PSTN). This innovative telecom cost management solution clearly identifies, validates and allocates the charges to the appropriate cost center.
"For the first time, there is a way to solve this cost displacement issue," says MDSL CEO Ben Mendoza. "By collecting call transaction data from the various network components and mediation gateways, we are able to apply high-performance algorithms that resolve many complex issues including time zone differences, clock drift and E164 number normalization. As a result, we are able to create a complete picture of who placed each call and correctly allocate the costs."
Through user-friendly graphical reports, organizations can view off-net calling patterns, analyze hot spots and high traffic call areas and determine when introducing additional gateways would be more cost-effective. Visualizing off-net traffic patterns also reveals sub-optimal routing issues and allows companies to tune their networks to be truly cost-effective.
"Although the quality of data on the network from the individual vendors is good, it is the ability to bring this information together and visualize it through interactive dashboards that adds business value," says MDSL CEO Ben Mendoza.
Additional information on the solution is available by e-mailing webenquiries (at) mdsl (dot) com.
About AOTMP
AOTMP is the leading provider of information solutions for managing fixed and wireless telecom environments. Its proprietary certifications, benchmarks, standards and best practices deliver measurable improvement in efficiency and productivity for managing wireless, voice and data services. From Fortune 50 companies to SMB, enterprises seeking the best return on telecom and IT services turn to AOTMP's industry research, advisory services, educational programs and performance management systems to achieve operational and financial efficiency.
About MDSL
MDSL delivers software solutions and services that help international organizations reduce their costs significantly and on a global scale. More than 150 customers in over 34 countries trust in our products to improve their bottom-line results and ensure a fluid and controlled use of their telecom services.
MDSL Contact
Janet Alicea
Marketing Manager
Phone: +1.212.213.7318 or +1.917.385.2275
janet.alicea (at) mdsl (dot) com
###