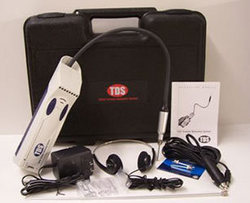 I consider this a huge step forward in the fight against bed bugs by putting the power of detection in the hands of the property owner before a pest control professional is even called in.
Secaucus, NJ (PRWEB) October 14, 2010
Stern Environmental Group has successfully completed field testing of the Termite and Bed Bug Detector this past week and has announced that the unit is so sensitive that it has successfully detected the presence of just one bed bug in a hidden space. This unit has previously been sold exclusively to termite extermination professionals for termite discovery, but has now been found to be highly effective in locating the presence of concealed bed bugs. Douglas Stern says, "The technology used in this product is revolutionary and will change forever how hotels and businesses monitor for and detect bed bugs. I consider this a huge step forward in the fight against bed bugs by putting the power of detection in the hands of the property owner before a pest control professional is even called in."
This new bed bug discovery tool measures, with its various arrays of CO2 sensors, increased level of CO2 which is exuded by bed bugs as they digest their blood meal. As bed bugs like to harbor in concealed and small hidden areas such as in cracks and crevices, in nightstand drawers, behind headboards, in box springs, inside electrical outlets, inside bedside clocks, and even in the rolled edges of mattress pillow tops, the CO2 they exude as they digest their food builds up to a detectable level. The Termite and Bed Bug Detector will indicate the presence of this increased level of CO2 with a series of beeps. The number of beeps the unit emits depends on how many bed bugs are in the confined hiding space and the amount of CO2 that has collected. The unit even recalibrates itself automatically to new existing CO2 levels when moved to a new location; assuring an accurate reading even when changing rooms.
With the Termite and Bed Bug Detector being used to detect the hidden presence of bed bugs, treatment for a bed bug problem can be done more quickly and efficiently; allowing you to determine where to target the treatment and also help to determine if the treatment has been successful. The unit is equipped with a very powerful CO2 containment sensor that is combined with a small vacuum pump. The pump constantly draws in air samples that are then tested by the sensor array. Headphones are supplied for the operator to use so that full attention can be given to any change in beep tone as an inspection is being made. A 12 inch sensor probe extension piece is included with the unit and its use is recommended to keep the unit's sensing device from recording the breath of the operator. Operators may also want to initially wear a dust mask to lower their own CO2 signature to further assist the unit in recording the CO2 levels accurately.
As bed bugs are becoming increasingly more common and are a difficult problem not only hoteliers, retail stores and office managers alike, the ability to rapidly test enclosed spaces for the presence of bed bugs, and to monitor enclosed spaces for a "total kill" after treated will assist in the rapid treatment and possibly limit the future spread of bed bug infestations. Douglas Stern, Managing Partner of Stern Environmental says, "I see this new product as a tool that all maintenance staff in hotels will own in the very near future. Hotel managers will now be able to visit a room after a guest complaint of bed bugs and verify for themselves the presence of bed bugs; ensuring proper room isolation before pest professionals arrive. Retail store owners can monitor bagged and sealed merchandise before it is returned to stock, and hotel maintenance staff can review rooms on a regular basis as a part of their own bed bug prevention programs. Travelers will be able to inspect concealed places in their hotel room to help to determine that they are bed bug free before unpacking and homeowners can spot check upholstered pieces and enclosed spaces for bed bug problems."
Stern Environmental Group is selling the Termite and Bed Bug Detector on their website. In just 10 minutes after having launched this product in their store last week, Stern had already received their first phone call requesting more information on the product. The unit sells for under $1,358 and is shipped with a hard cover portable storage case.
For additional information on bed bugs and to purchase the Termite and Bed Bug Detection System unit contact Douglas Stern. Stern Environmental Group is a top expert in bed bug extermination and provides commercial and residential Cryonite and bed bug dog services in the New Jersey and metropolitan New York City region. Please visit http://www.SternEnvironmental.com for more information on this new bed bug detection system for pest professionals, concerned business owners, and hotel or motel owners/operators.
About Stern Environmental Group:
Stern Environmental Group, LLC is a fully service bed bug exterminator and pest control management company. Operating in New York City, New Jersey, New York, and Long Island, New York for over 10 years, Stern Environmental Group has become a leader in the testing of new bed bug products, commercial and residential bed bug control, and pest management solutions in the New Jersey and New York City areas.
Contact:
Douglas Stern, Managing Partner
Stern Environmental Group
Toll Free: 1-888-887-8376
100 Plaza Drive
Secaucus, NJ 07094-3613
http://www.SternEnvironmental.com
Twitter: http://www.twitter.com/bedbugexpert
Facebook: http://www.facebook.com/SternEnvironmental
###