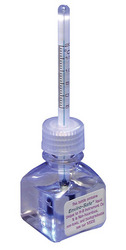 Vernon Hills, IL (Vocus) May 11, 2010
To offer customers a comprehensive selection of nonhazardous glass thermometers, Cole-Parmer has expanded our offerings of H-B Instrument thermometers, with multiple options to suit various applications and preferences.
The series of Enviro-Safe® thermometers from H-B Instrument features nontoxic, nonhazardous, and fully biodegradable green liquids plus lead-free glass and recyclable packaging. Enviro-Safe is the only 100% environmentally safe thermometer available. Cole-Parmer has added seven Enviro-Safe thermometer types to our selection.
New Easy-Read® thermometers feature a black liquid against high-contrast yellow-backed glass, the best combination for fewer reading errors. Another offering, the Double-SafeTM PTFE-Coated Safety Glass Thermometer, is ideal for schools, cleanrooms, and other environments because there is no glass hazard or contamination if the thermometer breaks.
To view the comprehensive line of H-B Instrument thermometers, visit ColeParmer.com/7826
Cole-Parmer has been a leading global source of laboratory and industrial fluid handling products, instrumentation, equipment, and supplies since 1955. Our product lines, including popular brand names such as Masterflex®, Oakton®, and more, are sold through company-owned customer channel outlets and a strong network of international dealers. We also feature an ISO-17025-accredited metrology lab for instrument calibration and repair. Cole-Parmer responds with excellence to customer needs, and offers application expertise and technical support. For more information, contact Cole-Parmer, 625 East Bunker Court, Vernon Hills, IL 60061. In the U.S., call 800-323-4340. International customers, call 847-549-7600. Visit us at coleparmer.com.
###