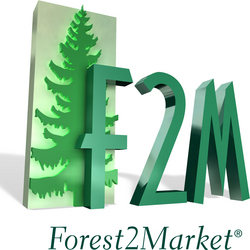 We'll see the normal seasonality in sawtimber prices but steady growth overall. We expect 10-inch pine sawtimber prices to rise by 11 percent in 2010 and 14-inch sawtimber to rise by more than 9 percent.
Charlotte, NC (Vocus) February 16, 2010
Pine sawtimber prices experienced historic lows in 2009, but moved higher in the fourth quarter. Forest2Market 's forecast calls for this upward trend to persist throughout 2010. This year will also be a good year for pulpwood prices, which gained ground quickly throughout the fourth quarter of 2009.
About Forest2Market's Stumpage Price 4Cast
Forest2Market's Stumpage Price 4Casts have been extraordinarily accurate over the years. According to Pete Stewart, founder and CEO of the company, "The primary reason for this is two-fold. First, the forecasts begin with current market prices, extracted from our online timber pricing service. These prices are aggregated from actual contracts for the sale and purchase of timber on the stump." Forest2Market collects data for 39 distinct wood basins throughout the South, not just region-wide or state-by-state data. "Wood basins don't recognize state boundaries, said Stewart. Markets in coastal areas exhibit different characteristics than markets in the Piedmont, for instance. Every state contains parts of anywhere from four to eight wood basins. We collect tract-by-tract information—both prices and tract attributes—in all of them."
To these local prices, Forest2Market applies a series of econometric models. First, we forecast general economy indicators two years out, everything from GDP to housing starts to oil prices. These results are available in Forest2Market's monthly Economic Outlook . We also consider local market factors like seasonality, harvest levels and local economic health. From these, we develop locally relevant Stumpage Price 4Casts that include sawtimber, chip and saw, and pine and hardwood pulpwood prices. Prices are also forecast month-by-month for the next two years.
See in-depth details about Forest2Market's forecast methodology .
Forest2Market's 2010 Forecasts
Forest2Market's 2010 forecast for sawtimber calls for prices to continue on an upward trend. "We'll see the normal seasonality in sawtimber prices but steady growth overall," says Daniel Stuber, who oversees analytics and data quality at Forest2Market. "We expect 10-inch pine sawtimber prices to rise by 11 percent in 2010 and 14-inch sawtimber to rise by more than 9 percent."
"A variety of factors will put opposite pressure on sawtimber prices. Strong lumber prices in the fourth quarter of 2009 and so far this year will drive prices upward, as will steady growth in housing starts, which will move from roughly 550,000 per month to 840,000 by the end of 2010. At the same time, oil prices (and therefore diesel prices) will increase throughout 2010, putting downward pressure on stumpage prices, though not enough to push prices back to 2009 historic lows."
Forest2Market's Stumpage Price 4Casts show a stronger year for pulpwood prices as well. Pulpwood prices will be influenced by growth in GDP, which signals increased demand for paper, and by the fact that wet winter weather has made logging difficult in many areas. Because of the wet weather, pulp and paper mills are strapped for raw material.
"We expect prices to continue to be high through mid-March as pulp mills build inventory. As spring and summer approach and ground conditions improve, prices will decelerate, though a strengthening economy and BCAP will support higher prices throughout the year," said Stuber. "Pine pulpwood will increase an additional 2.5 percent in 2010 and hardwood pulpwood will improve by 2.8 percent."
Forest2Market expects small diameter chip and saw to feel pressure from pulpwood pricing in 2010 as well. A decrease in the volume chip and saw on the market will lead prices to rise relative to pine pulpwood. "In 2009, the ratio of chip and saw to pine pulpwood was 1.7:1," said Stuber, "in 2010, we expect this ratio to be 1.9:1."
About Forest2Market
Headquartered in Charlotte, N.C., Forest2Market®, Inc. is the premier provider of market price information in the U.S. South and Pacific Northwest. Access to Forest2Market Stumpage Price data allows sellers and buyers of standing timber to respond to the complex supply chain issues they face today. Our Economic Outlook and Stumpage 4Casts provide a two-year forward look at general economic indicators, industrial indicators and stumpage prices for individual wood basins. Our customers rely on Forest2Market, Inc. to provide the factual foundation they need to make operational and strategic decisions. Visit us at http://www.forest2market.com.
For more information, contact:
Suz-Anne Kinney
(704) 540-1440 ext. 21
# # #