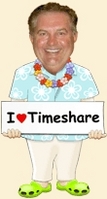 I guess I yinged when I should have yanged
Renton, WA (Vocus) July 13, 2010
RedWeek.com employee and timeshare icon, Seymour O. DeSytes, is recovering at a local hospital from injuries he sustained on Monday during the annual running of the bulls in Pamplona, Spain. Although gored in the leg and then trampled by a 1200 lb. bull, DeSytes is expected to make a complete recovery and is reported to be in good spirits. His physician said it was a miracle, or at the very least "dumb luck", that he was not more seriously injured or killed in the incident.
DeSytes, a fictional character created by RedWeek.com - the largest online timeshare marketplace - travels the globe as The Timeshare Ambassador, writing about timeshare resorts and his timeshare rental experiences.
"I guess I yinged when I should have yanged," said DeSytes. Eye witnesses state that during a lull in the action, DeSytes had stopped along the route to converse with spectators. One witness, who wished not to be identified, said that DeSytes "was telling us how much money he saved renting a timeshare, instead of staying at a hotel. Suddenly, the bull appeared out of nowhere and headed straight for him. It was as if he [the bull] singled him out for the trampling," said the witness.
"It's mostly my pride…" said DeSytes in reference to his injuries. "Oh, and this giant whole in my leg, and the head-to-toe bruising… but mainly the pride," he added. DeSytes's death-defying tale has made him a bit of a media sensation, with Spanish media outlets referring to him as "El Ambassador del Loco". He is expected to be discharged later this week.
To learn more about DeSytes and his many adventures, please go to: http://www.the-timeshare-ambassador.com.
About RedWeek.com LLC:
RedWeek.com is a member-supported marketplace for timeshare rentals, timeshare resales, and timeshare exchanges. You can find reviews, ratings, prices, availability and complete resort descriptions for all timeshare resorts to make vacation selection easier.
Boasting an A+ Better Business Bureau rating, RedWeek has more than 1,400,000 registered users and includes 5,000 timeshare resorts worldwide. The site was launched in November 2002.
###