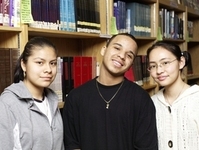 High schools shouldn't just make sure students graduate…they should make sure students graduate ready for college, ready for a career, and ready for life
Long Island City, NY (Vocus) May 4, 2010
Early College High School Week, May 3-May 9, 2010, promises to be an exciting celebration of the success of the Early College High School movement. Early College High Schools (ECHS) provide high school students with the opportunity to earn both a high school diploma and up to two years of transferable college credit upon graduation. President Obama stated, "High schools shouldn't just make sure students graduate…they should make sure students graduate ready for college, ready for a career, and ready for life". Middle College National Consortium (MCNC) is proud to be part of the Early College High School Initiative, a consortium of schools working with Jobs for the Future (JFF) and funded by the Bill and Melinda Gates Foundation.
The nineteen Middle College National Consortium Early College HS partner schools (see attachment) serve a student population which is generally underserved in high schools and underrepresented on college campuses. The MCNC focuses on professional development and staff leadership, comprehensive academic, social and emotional student support, and high school-college collaboration.
Middle College National Consortium's Student Leadership Initiative, April 28-May 1, which led up to Early College High School Week 2010, was held in Greenville, South Carolina. The topic, Water Sustainability: How We Live With Our Rivers, featured student-led and initiated research projects including: mini-documentaries, fundraising for Water for Life, an organization providing clean drinking water in Africa, a clean-up campaign for a local shoreline, and various projects on how to bring rivers back to life.
Middle College National Consortium's network includes 19 Early College High Schools nationwide, enrolling 6,050 students. Students are 79% minority, with 53% qualifying for free or reduced lunch and have a school attendance rate of 95%. Its 2008-09 cohort of 9th to 12th graders had an average 2.75 college GPA, a 92% college course pass rate and has earned an average of 9.2 college credits. Upon graduating from HS 12th graders accumulated an average of 14 college credits.
MCNC Director and founder, Dr Cecilia Cunningham says, "We are proud to be part of the Early College Week 2010, which showcases the remarkable achievements of individual schools and their students. Hopefully it will act as a catalyst for the expansion of ECHSs in school districts across the country."
The Middle College National Consortium, headquartered in New York City, is a leader in the movement to establish and sustain dual enrollment, high school and college, as a viable and necessary educational model. Its mission is to develop small schools in which high school students, especially those who have been previously underserved by their former schools, can earn both a high school diploma and either an Associate's degree or transferable college credits upon graduation.
To learn more about the Middle College National Consortium, visit us at (http://www.mcnc.us/) for a comprehensive overview of the history, design principles, current work and achievements.
Contact information:
Tony Hoffmann
Middle College National Consortium
http://www.mcnc.us
718-361-1981
thoffmann(at)mcnc(dot)us
###