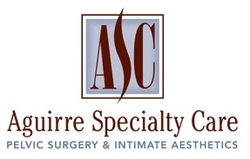 Englewood, CO (Vocus) November 8, 2010
Dr. Oscar Aguirre of Aguirre Specialty Care announced today that he will present two talks on November 14, 2010 at the 5th Annual Congress on Aesthetic Vaginal Surgery. The 5th Annual Congress on Aesthetic Vaginal Surgery is a Post Conference Workshop during the 5th Annual Cosmetic Conference of the American Academy of Cosmetic Gynecologists (AAOCG).
Dr. Aguirre will speak on two topics:
Patient Selection in Aesthetic Vaginal Surgery – Preop and Postop Considerations
Women seeking aesthetic vaginal and vulvar surgery present with different anatomic and personal histories that require a deep understanding of "normal" genital appearance, pelvic floor anatomy and female sexual dysfunction. Patients who present with undesired cosmetic appearance of the vulva, vaginal looseness or painful intercourse may or may not be candidates for labiaplasty or vaginoplasty. Identifying these issues by a detailed history and examination is essential in appropriate patient selection and surgical planning so as to avoid postoperative complications and enhance patient satisfaction.
Aesthetic Reconstructive Pelvic Surgery: The Blue Plate Special & the Mesh Dilemma
The prevalence of pelvic floor relaxation (vaginal prolapse) in the world is enormous thus creating a shortage of reconstructive pelvic surgeons and urogynecologists. There is also a lack of understanding by both patients and physicians regarding symptoms, presentation, diagnosis, and treatment options. Women who present with vaginal looseness or aesthetic vulvar concerns often have advanced vaginal prolapse which warrants an urogynecologic evaluation and a well thought out reconstructive pelvic surgery. Concomitant reconstructive and aesthetic vaginal surgery may be performed safely and with excellent patient satisfaction. The indications for adding a sling (to fix incontinence) or using a synthetic mesh (to fix prolapse) will be reviewed as well as when and how to add vaginoplasty and labiaplasty at the time of the repair.
The Congress of Aesthetic Vaginal Surgery was organized in 2006 when the concept of teaching aesthetic gynecology was in its infancy. The yearly meetings of the Congress of Aesthetic Vaginal Surgery focus on education in and the growth and development of Aesthetic Vaginal Surgery. Each year The Congress brings together a group of dynamic, acknowledged leaders in a wide range of fields including: gynecology, urogynecology, plastic surgery, cosmetic surgery and dermatology, as well as supporting fields such as legal and marketing. The 5th Annual Cosmetic Conference of the American Academy of Cosmetic Gynecologists will be held November 11–15, 2010 at the Ritz Carlton Dove Mountain in Tuscon, Arizona. The 5th Annual Congress on Aesthetic Vaginal Surgery, a Post Conference Workshop will be held November 14–15, 2010.
About Oscar Aguirre, MD
Oscar A. Aguirre, MD is President and Medical Director of Aguirre Specialty Care – Pelvic Surgery and Intimate Aesthetics, The Center for Female Pelvic Medicine and Cosmetic Surgery. ASC is a center of excellence for women, providing everything from urogynecologic procedures to dermal aesthetic services. This includes in-office awake aesthetic vaginal surgery and body contouring. At ASC women have options to numerous procedures and specialists including colorectal surgeons, to address fecal incontinence as a result of obstetrical injury, and plastic surgeons to coordinate their True Mommy Makeover (TMM) with Dr. Aguirre. TMM is THE complete "mommy makeover" tailored to the patients needs which may include breast augmentation, abdominoplasty, and liposuction. In one surgical setting these procedures may be performed at the time of their vaginal rejuvenation which may include labiaplasty, clitoral hood reduction, vaginoplasty and reconstructive vaginal surgery, if vaginal prolapse is present.
Dr. Aguirre is a fellowship-trained urogynecologist who has dedicated his entire surgical career to the evaluation and management of vaginal relaxation and bladder/bowel disorders. Since early in his career Dr. Aguirre has performed cosmetic gynecological procedures at the request of his urogynecologic patients. In 2006, he formally pursued his interest in the field of Female Genital Cosmetic Surgery (FGCS) under the supervision of world-renowned gynecologist, Dr. David Matlock of Beverly Hills. Dr. Matlock is the pioneer and developer of Laser Vaginal Rejuvenation® (LVR®) and Laser Reduction Labiaplasty, also known as Designer Laser Vaginoplasty® (DLV®). With this additional training Dr. Aguirre became the third urogynecologist in the country to perform LVR® and DLV®. After becoming proficient in performing laser reduction labiaplasty and Laser Vaginal Rejuvenation® as per the techniques taught by Dr. Matlock, Dr. Aguirre then trained under Dr. Red Alinsod in Laguna Beach. From him, Dr. Aguirre discovered the Ellman Surgitron radio frequency device which is even less destructive to tissues than any laser. Since it is minimally destructive it is essentially pain-free and allows for faster healing. The majority of these procedures are performed in the privacy of Dr. Aguirre's office under local anesthesia.
Dr. Aguirre's research interests have included all urogynecologic and women's health issues, including female sexual dysfunction. He has published research on a testosterone patch for low libido and was a principal investigator of a new investigational oral medication for the treatment of Hypoactive Sexual Desire Disorder (HSDD). As a recognized expert in the field of female sexual medicine, he is ideally suited to address the complex issues that revolve around women's sexual health.
About Aguirre Specialty Care
In 1992, Dr. G. Willy Davila founded the first urogynecologic practice in Colorado called Colorado Gynecology and Continence Center. Upon returning to Colorado after his residency in obstetrics and gynecology, Dr. Aguirre completed a two-year fellowship under Dr. Davila in urogynecology and reconstructive pelvic surgery. In 1999, when he completed his fellowship, Dr. Aguirre took over as medical director of the practice and renamed it Urogynecology Associates of Colorado.
While listening to the overwhelming concerns of his patients over the years, it became apparent to Dr. Aguirre that they were concerned about much more than just the functional aspect of their vaginal problems. Patients were also concerned about the appearance of the vagina. Dr. Aguirre, who is qualified to address both women's functional and aesthetic concerns, realized that he could help these women. With the addition of cosmetic gynecological services, the practice was renamed Pelvic Specialty Care – The Center for Female Pelvic Medicine. The new name illustrated the fact that the practice had more to offer than just urogynecologic treatments and procedures.
In the years following, Dr. Aguirre and his team were constantly adding new services to better meet the needs of their patients, including additional aesthetic vaginal surgery procedures, in-office body contouring and dermal aesthetics. In 2009, Dr. Aguirre and his team updated the practice name to better reflect the wide range of services provided for women. With that, Aguirre Specialty Care – Pelvic Surgery and Intimate Aesthetics, The Center for Female Pelvic Medicine and Cosmetic Surgery, was born.
ASC is a center of excellence for women, providing everything from urogynecologic procedures to dermal aesthetic services. Dr. Aguirre and his team strive to always have the answer to the question, 'What can you do about this?' The practice is constantly growing and ever changing to adapt to the needs of their patients.
Aguirre Specialty Care is located at 9800 Mt. Pyramid Court, Suite 300 in Englewood, CO. For more information contact Aguirre Specialty Care at 303-322-0500 or visit the website at http://www.ascdenver.com.
###