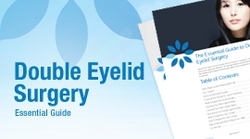 "The cosmetic surgery experience should be positive, safe and satisfying," says Dr. Buonassisi. "The video and eBook resources help to educate and inform, and ultimately improve the patient's comfort level."
(PRWEB) October 6, 2010
8 West Cosmetic Surgery recently launched an informative website to support and educate clients as they research cosmetic surgery. Facial Plastic Surgeon Dr. Buonassisi publishes regular eBooks and videos that clients can access from the privacy of their own homes. The web based resources help them better understand what to expect from surgery and the recovery period so they can effectively plan for time off work and activities. This month's new resources feature double eyelid surgery and include an eBook and YouTube video. In the video, Dr. Buonassisi discusses the details of the surgery, who is a candidate and how the patient's choice of crease height and shape influences the overall results. Dr. Buonassisi and his team are committed to empowering their patients with information so they can make knowledgeable decisions.
Dr. Buonassisi takes great pride in providing a private and exclusive experience at his new Vancouver plastic surgery center. He chose the location carefully to ensure ease of access and convenience. The center is located on a quiet street, with parking directly in front and a confidential entrance.
Dr. Buonassisi has been in practice for over ten years and is one of British Columbia's leading Facial Plastic Surgeons. His goal when meeting patients in consultation is to set realistic expectations for the potential benefits and risks of surgery. He uses computer imaging as a communication tool so that patients can evaluate different degrees of change to their features before making a decision.
The 8 West Cosmetic Surgery team consists of patient care experts and sub-specialty plastic surgeons. The surgeons are experts in their respective fields, practice cosmetic surgery in their areas of board certification, and offer specialized services for the face or body. Dr. Buonassisi is a well known rhinoplasty, blepharoplasty and facelift expert. Other services of the cosmetic surgery center include breast augmentation, breast lift, breast reduction and abdominoplasty.
Media Inquiries and More Information:
Jamie Burnett
jburnett(at)8west(dot)ca
Tel: 604 733 1669
Website
Follow us on Twitter
# # #