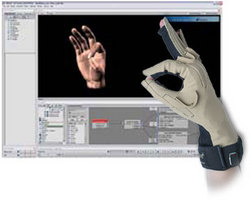 Our partners and the development community have been asking for 64-bit support for some time now, and they'll be happy to know that we are making the development kit available
San Jose, CA (Vocus) April 26, 2010
CyberGlove Systems is announcing the official release of VirtualHand for MotionBuilder 2010, available for both 32 and 64-bit XP platforms. A long-time advocate and supporter of Autodesk products, Faisal Yazadi, CEO of CyberGlove Systems states, "After months of Beta testing and fantastic feedback from the community, the plug-in is officially ready. We're very happy to be a part of the Autodesk Developer Network which allows us to develop software interfaces to our CyberGlove hardware products. In this case, it's for MotionBuilder, the software standard of motion capture."
CyberGlove Systems is also releasing new versions of the VirtualHand SDK with continued support for 32-bit Windows platforms and now 64-bit Windows XP. "Our partners and the development community have been asking for 64-bit support for some time now, and they'll be happy to know that we are making the development kit available," said Nemer Velasquez, Sales and Marketing Director of CyberGlove Systems. "The SDK has not only gone through a major overhaul to meet today's developer needs, but has an even more user-friendly interface as well as demos developers may already be familiar with."
VirtualHand for MotionBuilder 2010 provides motion capture animators the ability to accurately and quickly capture hand and finger motion in Autodesk MotionBuilder 2010. The VirtualHand SDK enables support of the entire CyberGlove product line for practically any application from virtual reality, motion capture, and CAD, to custom solutions. Both products are scheduled to release in calendar Q2.
The Beta version of VirtualHand SDK is available. If you are interested in being a part of the Beta testing, please contact us at sales(at)cyberglovesystems(dot)com.
CyberGlove Systems is the worldwide leader in data glove technology and offers the most sophisticated hand-centric motion capture solutions in the marketplace. CyberGlove Systems' products include four different data glove solutions (CyberGlove®, CyberTouch®, CyberGrasp® and CyberForce®) and its VirtualHand Software Development Kit (SDK). Its products allow users to capture detailed finger, hand, and arm movement in virtual reality, allowing users to interact with digital objects in virtual reality.
CyberGlove Systems technology benefits customers by allowing them to more quickly prototype and animate in virtual reality thereby saving them both time and money. Furthermore, CGS is the only data glove solution offering both kinesthetic force and vibrotactile feedback. This haptic technology benefits customers by simulating realistic physical forces such as gravity and touch for industrial engineering, military, and academic research applications. CGS customers include Fortune 500/Global 500 corporations, government agencies, and universities in the U.S., Europe, Asia, Middle East and South America.
Established in 1990, the CyberGlove® Systems family of products remains the most trusted and widely used data glove solution today with the very best customer support.
Autodesk, Inc., is a world leader in 2D and 3D design, engineering and entertainment software for the manufacturing, building and construction, and media and entertainment markets. Since its introduction of AutoCAD software in 1982, Autodesk continues to develop the broadest portfolio of state-of-the-art software to help customers experience their ideas digitally before they are built. Fortune 100 companies — as well as the last 15 Academy Award winners for Best Visual Effects — use Autodesk software tools to design, visualize and simulate their ideas to save time and money, enhance quality and foster innovation for competitive advantage. For additional information about Autodesk, visit http://www.autodesk.com.
# # #