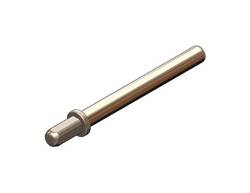 Because of these vision systems, our customers can have complete confidence in every single interconnect pin we produce.
Milford, CT (PRWEB) June 24, 2010
Bead Electronics, an interconnect pin manufacturer in Milford, CT and a large automotive EMS in the Midwest collaborated several years ago to develop a high-performance interconnect pin for use in automotive actuator control systems. Bead's True Grip Pin with its unique flanged design offers superior rigidity, alignment and electrical conductivity while requiring less solder.
Ensuring that each of the tens-of-millions of pins produced on several machines precisely meets all specifications presented a considerable challenge. Each pin measures approximately .040" diameter x .472" long. They are manufactured tip-to-tail in a continuous chain, taken up onto a large reel and shipped directly to customers. This process limited Bead's options for performing quality inspections.
Manual inspection at periodic intervals was effective but impractical as volume requirements increased. While Bead's customer did not require 100% inspection, Plant Manager Kevin Mayer says, "An in-process, high-speed vision inspection system that could measure multiple dimensions on every pin and store the data was the only way to achieve total confidence in our process and product."
The Solution
Bead began researching automated vision inspection systems for three of its machines in the fall of 2008. Mayer chose DALSA's VA61 Vision Appliances, Genie cameras and Sherlock software to verify the diameter, thickness and length of the flange, and to measure the overall length of each pin as it came out of the die-set. With the presses running at 350 ppm, no other type of inspection solution could keep pace reliably.
Dalsa's IPD VA61 compact vision controller interfaces with Genie gigabit Ethernet cameras were installed on each of the three machines producing Bead's new patent-pending interconnect pin. User-friendly Sherlock software running on the vision controllers allows operators to get the system up and running quickly with the simple click of an icon, while Sherlock's flexible and robust suite of tools enables Bead to obtain precise measurements and identify trends that could lead to non-conformances.
"The Sherlock software was more user-friendly than any of the other programs we looked at," Mayer said. "Because it is flexible and easy to use, we program our vision inspection stations for other components and other machines on our plant floor as our production schedule requires."
Each vision inspection station is networked to Bead's database. The inspection data collected provides traceability down to the day, hour and minute of production, allowing analysis of raw dimensional data and providing insight into process variables such as tool wear. By analyzing production trends, Bead is able to predict tool life and proactively schedule tool changes and other preventive maintenance. "This has improved our efficiency tremendously since we can prepare for and schedule tool changes rather than having to react to a potentially catastrophic tool failure," says Mayer.
Plans to Install More Vision Systems
Since installing the Dalsa machine vision systems late in 2008, Bead has achieved 100% inspection of each of the 50+ million pins produced to date, and the company has experienced no costly product returns.
"Because of these machine vision systems, our customer has complete confidence in every single interconnect pin produced," Mayer says. "Our goal is to have a vision system on every machine in our plant so that we can provide 100% inspection for all of our products."
About Bead Electronics
Bead Electronics manufactures precision continuous reeled, solid-wire, and tubular contact pins for the telecom, automotive, connector and lighting industries. Their custom components deliver the performance of machined pins at the price of stamped, and they can be tooled in a fraction of the time at a modest cost.
The Bead-formed manufacturing process, called swaging, yields superior value because it's a high-speed, virtually scrapless cold-forming process capable of producing small metal parts that are dimensionally consistent and inexpensive.
###