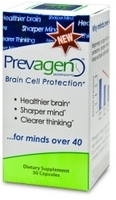 The John Tesh Radio Show – Intelligence for Your Life is a natural fit for Prevagen®
Madison, Wisc. (Vocus) February 5, 2010
Quincy Bioscience, manufacturer of Prevagen® - a memory loss http://www.prevagen.com supplement to help fight memory loss, announces their partnership with nationally-syndicated radio talk show host John Tesh. The unique jellyfish protein-based product was first introduced in 2007 and has helped thousands with their learning, memory, and concentration. A partnership between Quincy Bioscience and The John Tesh Radio Show represents the growing story of a jellyfish protein helping improve brain function for people across the United States.
"The John Tesh Radio Show – Intelligence for Your Life is a natural fit for Prevagen®," says Quincy Bioscience president Mark Underwood. "Mr. Tesh's program not only entertains his listeners but helps them lead better lives by sharing a wealth of practical information. Prevagen® works well in the format of the program because of the story behind it."
Prevagen® was launched in 2007 after twelve years of research went into evaluating whether a jellyfish protein could help with brain aging and the troublesome problems like poor recall, difficulty concentrating, and misplacing items that often accompany aging.
Motivated by his own family experiences with neurodegenerative conditions, Mr. Underwood as an undergraduate at the University of Wisconsin-Milwaukee came across research linking stings of a jellyfish with the symptoms of multiple sclerosis. After several years of research isolating the jellyfish protein and proving it could protect brain cells, Prevagen® - Brain Cell Protection was born.
"In quality of life studies, we have shown Prevagen can help people with short-term memory, word recall, and remember driving directions better," says Underwood. "John Tesh reaches thousands of listeners who face these challenges every day. We're excited about the opportunity to help them."
Quincy Bioscience is a Madison, Wisconsin based biotechnology company focused on the discovery, development and marketing of new compounds to fight the aging process. The company's products focus on restoring calcium balance related to neurodegenerative disorders and other destructive age-related mechanisms. Quincy Bioscience is developing health applications of the jellyfish protein apoaequorin for dietary supplement and pharmaceutical products. For more information visit http://www.quincybioscience.com.
"The John Tesh Radio Show" in 2003 and has since become one of the most listened-to voices on the air. The show has recently won Radio Ink magazine's Reader's Poll for "Favorite Syndicated Radio Personality" and airs on over 300 stations nationwide.
###