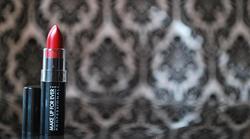 a beauty blog without the fluff. We deliver professional advice in a way that any woman can follow, no matter what her cosmetic experience
Chicago, IL (PRWEB) July 7, 2010
With the launch behind them, TheCosView.com is holding their first cosmetic giveaway for their readers. Unveiled on May 31st, 2010 TheCosView offers unbiased product reviews by Makeup Artist and Editor, Natasha Kohli. It also is a place for beauty newbies and addicts alike to learn new techniques and connect with other cosmetic fans. Divided into three categories, The Cos View reviews products available in the drugstore in Beauty on a Budget, cosmetics from specialty and department store brands in Counter Couture, and natural and organic beauty finds in Natural Beauty. They also have Tips and Tutorials to offer tricks of the trade for those who want to learn or brush up on their beauty routine.
Editor, Natasha Kohli, describes the site as "a beauty blog without the fluff. We deliver professional advice in a way that any woman can follow, no matter what her cosmetic experience may be. When a woman looks good it changes the way she feels about herself, and experiencing that firsthand as both someone who wears makeup and as a makeup artist I feel it's so important for a woman to know how to enhance her natural beauty. Sure it's just makeup but it's a powerful thing."
Their first makeup giveaway will be announced on July 10, 2010 and one lucky winner will receive over $100 in free cosmetics. International contestants are eligible, and the contest winner will be announced on July 17, 2010. Visit the site on July 10th for details and information on how to enter.
Also in its second month running, The Cos View is introducing two additions to the team – Jasreen Randhawa as the voice of Lady Luxe, and Maria Shamuel as the Drugstore Diva. With a background in high-end cosmetics, Jasreen will be reviewing products in the Counter Couture category and offering her professional opinion on brands such as Dior, Lancome, MAC, NARS, and the like. Maria will be using her experience as a busy graduate student to offer advice to women on a budget how to achieve their beauty best. The trio will be offering something new almost daily, each contributing their own experiences and thoughts on different cosmetic products.
###