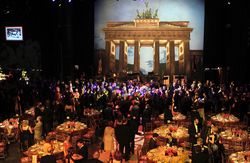 Vienna, VA (Vocus) September 7, 2010
The Wolf Trap Foundation for the Performing Arts , in partnership with the Embassy of Canada, announces the 2010 Wolf Trap Ball , held Friday, September 24 on the Filene Center stage at Wolf Trap National Park for the Performing Arts. The 39th annual Wolf Trap Ball celebrates the immense cultural and natural attributes of Canada, the world's second largest country.
Attendees will enjoy an evening of fine dining and entertainment while learning more about the important relationship between Canada and the United States. To showcase Canada's culture and natural beauty, the Filene Center stage will be transformed into an exploration of this great country. The stage will reflect Canada's awe-inspiring landscapes from the Pacific, Arctic and Atlantic ocean coasts. Attendees will have the chance to "explore" vibrant cities on the edge of nature such as Toronto and Montreal, coastal fishing villages of the Atlantic Provinces, pristine coast-line of the Pacific Northwest, and the spirit of the Northern cultures. The menu will feature Canadian cuisine including oysters, elk, and Quebec's famous "sugar pie," among other festive foods.
Gary Doer, Ambassador of Canada to the United States will serve as the honorary host. The event is co-chaired by Wolf Trap Foundation Board Member Nels Olson and Wolf Trap Associate Board member Warren Martin.
Honorary Co-Hosts for the ball include: Secretary Ken Salazar (D-CO), The Honorable Kathleen Sebelius (D-KS), Lt. Gov. Bill Bolling (R-VA), Governor Martin O'Malley (D-MD), Senator Max Baucus (D-MT), Senator Richard Burr (R-NC), Senator Benjamin Cardin (D-MD), Senator Thad Cochran (R-MS), Senator Bryon Dorgan (D-ND), Senator Diane Feinstein (D-CA), Senator Lisa Murkowski (R-AK), Senator Mark L. Pryor (D-AR), Senator Pat Roberts (R-KS), Senator Mark Warner (D-VA), Jim Webb (D-VA), Representative Michael Castle (R-DE), Representative Gerry Connolly (D-VA), Representative Jim Moran (D-VA), Representative Eleanor Holmes Norton (D-DC), Representative David Obey (D-WI), Representative Nick Rahall (D-WV), Representative Michael Simpson (R-ID), Representative Louise Slaughter (D-NY), Representative Bart Stupak (D-MI), Representative Todd Tiahrt (R-KS), Representative Chris Van Hollen (D-MD), Representative Rob Wittman (R-VA), Representative Frank R. Wolf (R-VA), and Fairfax County Board of Supervisors Chairman Sharon Bulova.
Proceeds from the Ball benefit Wolf Trap Foundation's renowned arts and education programs, including the Wolf Trap Institute for Early Learning Through the Arts. Wolf Trap's Institute programs reach tens of thousands of preschool and Kindgergarten children, teachers, parents, and caregivers around the country and abroad, using performing arts disciplines such as drama, music, and movement to enhance academic and social skills. Each year, the Wolf Trap Ball attracts hundreds of attendees raising hundreds of thousands of dollars to support these programs.
For more details on reserving a seat or table at the ball, contact Wolf Trap Special Events at
(703) 255-4030 or events(at)wolftrap(dot)org.
In addition to the annual Ball, forthcoming major fundraising events for 2010 benefitting Wolf Trap's mission to bring education through the arts into the community include the 13th Annual Invitational Golf Tournament on October 18, 2010 and Wolf Trap's Run for the Arts—5K and Fun Run on October 30, 2010.
About the Wolf Trap Foundation for the Performing Arts
The Wolf Trap Foundation for the Performing Arts, a 501(c)(3) nonprofit, founded by Catherine Filene Shouse (1896-1994), produces and presents a full range of performance and education programs in the Greater Washington area, as well as nationally and internationally. Wolf Trap features three performance venues: the outdoor Filene Center and Wolf Trap Children's Theatre-in-the-Woods, both located at Wolf Trap National Park for the Performing Arts, and The Barns at Wolf Trap, located down the road from the park and adjacent to the Center for Education at Wolf Trap. In partnership with the National Park Service, the 7,028-seat Filene Center annually showcases an extensive list of diverse artists, ranging from pop, country, folk, and blues to classical music, dance, and theater, as well as multimedia presentations, from May through September. The Barns operates year-round, and during the summer months is home to the GRAMMY-nominated Wolf Trap Opera Company, one of America's outstanding resident ensemble programs for young opera singers. Wolf Trap's education programs include the nationally acclaimed Wolf Trap Institute for Early Learning Through the Arts, Wolf Trap Children's Theatre-in-the-Woods, a diverse array of arts education classes, scholarships, and a nationally recognized internship program that was included in Bloomberg BusinessWeek's 2009 List of "Best Places to Intern." As part of its ongoing commitment to protect and preserve the environment, Wolf Trap offers metro access and is a founding member of the Green Music Group. Terrence D. Jones is president and CEO of the Wolf Trap Foundation for the Performing Arts.
Visit the Wolf Trap Web site at http://www.wolftrap.org for more information.
Contact
Melissa Chotiner, (703) 255-4096 or melissac(at)wolftrap(dot)org
Graham Binder, (703) 255-1917 or grahamb(at)wolftrap(dot)org
###