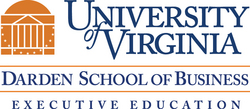 Leading Under Pressure: From surviving to thriving, before, during and after a crisis
Charlottesville, VA (Vocus) July 6, 2010
Erika Hayes James, PhD, an expert on two critical issues facing today's corporate and political environments: crisis leadership and workplace diversity, launches a new Executive Education program with the Darden School of Business Executive Education entitled Women Emerging in Leadership , to be held October 11–15, 2010.
In this new Executive Education program she incorporates the principles of crisis leadership found in her new book "Leading Under Pressure: From surviving to thriving, before, during and after a crisis" to demonstrate the significance of integrity, positive intent, capability, mutual respect, and transparency on the trust building process. And she will also integrate the topics of sustainable leadership for personal and organizational success, managing relationships at all levels, and harnessing negotiation skills. There will also be an assessment and coaching function, and other topics related to women in leadership positions.
As an interesting interview subject along with her relevant subject matter, Erika is an in-demand guest on radio news talk shows such as NPR, and the subject of business and professional publications including BusinessWeek, Fortune magazine, The Wall Street Journal, The Washington Post, the featured cover story in Women MBA magazine's special Women of Color issue, and named one of Diversity MBA magazine's "Top 100 Under 50."
An engaging and provocative teaching style has earned Erika accolades from the MBA students she has impacted at two of the top-ranked business schools in the world: The Darden School of Business at the University of Virginia, and Harvard Business School at Harvard University.
The content of her Women Emerging in Leadership program is especially relevant in today's economic climate where business leaders are faced with unprecedented leadership challenges, and those facing women leaders add to the complexity of their roles.
Dr. James welcomes feedback on content ideas for this program through her Community of WE (Women Executives) discussion group on Facebook, as well as through her Web site. You may also contact Darden Executive Education for more information or to register for this program.
"It is an exciting time for businesses right now, with domestic and global challenges to confront. The rising stars in the leadership arena will be the women and men who tackle those challenges with grace and integrity, and are able to manifest opportunities from those challenges for themselves and their organizations," said Erika Hayes James, PhD.
###