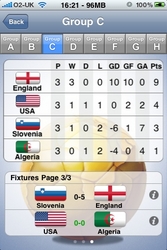 "Our aim is to make the World Cup a shared experience so now you can share your thoughts with friends on Facebook and Twitter. The World Cup is socially connected!" David James, CEO, mxData
(PRWEB) April 14, 2010
World Cup Planner 2010 from mxData makes sure football fans are ready for kick off on June 11th and kept well informed until the final whistle on July 11th and gives them live access to the latest scores, tables and teams as the 2010 World Cup unfolds. Users can predict scores and share them with their friends on Facebook and Twitter so the app from mxData keeps fans connected to their friends as well as the action in South Africa.
"Everyone is so looking forward to the World Cup in South Africa and it promises to be a very tight affair with the quality of teams going and the quality team here wanted to make the experience a bit more exciting so now its connected up to Facebook and Twitter!" said David James, CEO, mxData.
The World Cup 2010 planner has all the feature needed to compliment the World Cup experience with comprehensive information for all 32 teams in Groups A - H including a form guide, team news, a Knock Out chart and squad rankings. Users can view the tournament as a calendar or in their respective Groups. The app guides you through the Group Stages, the Knock Out phase and delivers the user right into the Final! In addition there are really useful additions such as UK TV schedules so you don't miss a match.
The World Cup Planner 2010 app has been developed on mxData's MXI platform which offers a very simple user interface, fast development, smooth integration with the handset functionality and easy upgrades. MXI epitomises the new tightly integrated, comprehensive development environments that manage the entire life cycle of mobile development and deployment.
To find out more about WCP2010 or the power of MXI visit http://www.mxdata.co.uk
The mxData World Cup Planner 2010 is available now in the iTunes App Store
http://itunes.apple.com/us/app/world-cup-planner-2010/id365465475?mt=8
# # #