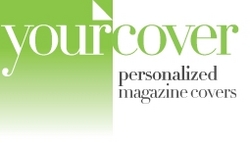 This was a GREAT anniversary gift for my parents! They loved it and it's truly one of a kind. Very easy to do online and reasonable pricing.
Wilton, CT (PRWEB) October 22, 2010
YourCover.com founded in 2000, was the first site to exclusively offer personalized fake magazine covers to consumers. The site has been updated several times over the last 10 years but a full overhaul has just been completed. The site redesign includes a new look, a new logo and a new magazine cover generator based on Microsoft Silverlight.
Creating a unique gift for a milestone event is a challenge. Consumers are looking for a gift that is special and memorable yet still affordable. YourCover has prided itself on fulfilling both those needs. The magazine cover templates cover all the major milestones including 1st birthday, sweet 16, 40th and 50th birthdays as wells as weddings, anniversaries, graduation and retirement. Each template comes complete with a unique masthead and default headlines. Consumers use the magazine cover generator to upload a photo into the chosen template and then personalize each headline to reflect their cover star's likes, dislikes and true life story.
Each personalized fake magazine cover is as unique as the person for whom it is made. As Chrissy of Boston, a recent customer, said in an online review, "This was a GREAT anniversary gift for my parents! They loved it and it's truly one of a kind. Very easy to do online and reasonable pricing."
Another unique feature of the YourCover magazine cover generator is the back cover. YourCover is the only site to offer a back cover option that allows consumers to add more information and photos of their cover star. This is especially useful when celebrating a long career, marriage or even a successful sports season. Consumers can add notes and special memories to commemorate their special occasion.
Whether for a milestone celebration or a just for fun gift, YourCover personalized fake magazine covers will be the gift that is the hit of the party.
About YourCover
YourCover started with a simple idea that everyone deserves to be showcased on his or her very own magazine cover. With the digital photography explosion, anyone can create a magazine cover by uploading their photos and inputting personalized text with the assistance of the YourCover templates and pre-written suggestions.
Since its founding in 2000, YourCover has been providing professionally printed, full-color magazine covers created online with ease. YourCover is much more than a fake magazine cover, it is a personalized and meaningful gift that will be enjoyed long after the occasion or milestone has passed.
Additional events that can be celebrated with YourCover are weddings, anniversaries, birthdays, Mother's Day, retirement, etc. Visit the YourCover site to see all the event titles that are available.
###