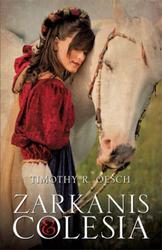 Zarkanis and Colesia aspires to whet amorous appetites and grant vicarious indulgences via the realm of true love
Longwood, FL (Vocus) September 21, 2010 —
Author Timothy R. Oesch's new Xulon Press novel, Zarkanis and Colesia ($22.99, paperback, 978-1-60957-794-0; $34.99, hardcover, 978-1-60957-795-7) is a riveting saga that transcends all tales of amorous devotion. Captured as an infant, Princess Vayle is nurtured to maturity by Giralda—a covert sympathizer who serves as lady-in-waiting. Years pass before Colesia learns her real name. Later she learns that her biological parents were murdered by the evil dictator who arranged her royal upbringing. Meanwhile, Prince Zarkanis is condemned to a life of solitary confinement. His only companion is Dametrius the Wise, who is determined to mold him into a warrior capable of deposing a tyrant yet shape a heart and mind suitable for courting a princess. After his guardian's death, Zarkanis continues arduous physical and mental training in solitude. When he breaches the barriers separating him from the woman he loves, he enters a world that will forever be altered by his passion, strength, and wisdom.
"Zarkanis and Colesia aspires to whet amorous appetites and grant vicarious indulgences via the realm of true love," the author says. "The novel portrays devotion transcending lust and displays passion rooted in the depths of divine spirituality. I hope readers will gain a heartfelt appreciation for the value and marvel of godly romance and matrimony."
Oesch, who has authored two previous books with Xulon Press, has used his godly love for his wife and children as the impetus behind the writing of this book. Born the son of a preacher and teacher, he has received training from Houston Baptist University, Bob Jones University, Gulf Coast Bible College, and the University of Texas Medical Branch at Galveston. He currently resides in Oak Ridge, Tennessee.
Xulon Press, a division of Salem Communications, is the world's largest Christian publisher, with more than 8,000 titles published to date. Retailers may order Zarkanis and Colesia through Ingram Book Company and/or Spring Arbor Book Distributors. Zarkanis and Colesia is available online through xulonpress.com/bookstore, amazon.com, and barnesandnoble.com.
###