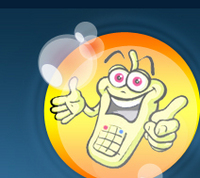 SpyBubble works with the current generation of the most popular smart phones.
(PRWEB) March 25, 2010
InfoShore Software Private Ltd. today announced the release of SpyBubble, a security application that provides employers or parents with a way to monitor usage of smart phones. The software silently tracks activities including SMS, dialed and inbound call number logging, and GPS location. Plus it provides remote 'call listening' capabilities.
SpyBubble is the solution for Employers concerned about the misuse of company-issued smart phones, parents concerned about their children exposing themselves to risk by sharing inappropriate information via their smart phone, or even spouses who think they are being cheated on.
Plus, the built-in GPS tracking function makes it easy for employers to dispatch personnel in real time, parents to monitor their children's whereabouts, and spouses to see where their loved one is really spending their Saturday nights.
SpyBubble works with the current generation of the most popular smart phones including these:

BlackBerry OS 4.2.1 or higher
Android 1.0 or higher (including Google phones)
"Organizations have a legitimate need to know when it comes to abuse of company-issued communication devices," according to Ashish Arora, Director of InfoShore Software Private Ltd., the product's creator.
"SpyBubble provides administrators with a way to keep cellular costs down, monitor improper release of sensitive company or client data, gather evidence in instances of corporate or industrial espionage, and know the whereabouts of employees in real time," Mr. Arora added.
But it's not just about employee compliance monitoring. SpyBubble delivers peace of mind to parents who are concerned about protecting their children from predators, monitoring them for signs of drug abuse or other improper behavior, verifying that children are where they say they are, and providing law enforcement with real-time GPS information in case their child is abducted or runs away.
And SpyBubble is the perfect electronic "Private Investigator" for anyone in a relationship who suspects their partner of being unfaithful.
SpyBubble installs and runs silently, so there is no evidence that the software is present, and no way for the phone user to deactivate it.
"SpyBubble is an excellent solution for organizations tasked with HIPAA or Sarbanes-Oxley (SOX) compliance, in addition to it's other uses," Mr. Arora said.
The company offers a Free Trial of the software so buyers can be sure SpyBubble will work on the phones they intend to monitor. The installation process is quick and easy, and extensive online support is available directly from the company.
For more information about SpyBubble, or to take advantage of the Free Trial, visit
http://www.spybubble.com/
About InfoShore Software Private Ltd.:
Established in 2005, InfoShore Software is dedicated to developing innovative software solutions that provide for customer's needs. The company develops commercial software as well as client-specific software in an outsourced environment.
# # #