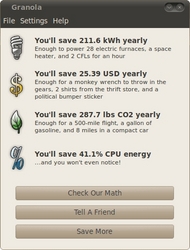 Granola can save up to 35% of the energy a computer uses. If all of the personal computers in the world ran Granola we could save billions of kilowatt hours annually. Imagine the difference that could make for the planet.
Blacksburg, VA (PRWEB) April 23, 2010
In honor of Earth Day, MiserWare announced the release of Granola, energy efficiency software for PCs (see http://grano.la/). MiserWare is committed to reducing the impact of computers on the planet. They have released Granola free for personal use in order to allow as many people as possible to help save energy easily.
Over a billion personal computers are in use worldwide, collectively consuming hundreds of billions of kilowatt hours annually. If each of these computers ran Granola and reduced their power consumption by only 10%, it would equate to removing 7 million cars from the road or planting 900 million trees or turning off 65 coal power plants. Granola is fully supported commercial software that allows computers to operate more energy efficiently without slowing them down. Granola saves energy by decreasing the power consumption of the system while it is not fully utilized and increasing it to maximum when necessary. By matching power consumption to demand, Granola helps to reduce energy consumption while a PC is being used. This is a significant difference from other software which rely on reducing power usage only during periods of inactivity or that reduce power consumption at the expense of performance.
Benchmarking of Granola showed significant energy savings, a full description of the experimental procedure is available at the benchmarking section of the Granola website: http://grano.la/software/benchmark.php
For more information or to download Granola for PCs or laptops running Microsoft Windows or Linux, go to http://grano.la/
MiserWare, Inc. is based in Blacksburg, Virginia. A spinout of Virginia Tech, MiserWare technologies leverage nearly a decade of federally funded research. MiserWare's goal is to reduce energy waste in computer systems to do its part to battle global warming. For more information, see http://www.miserware.com.
###