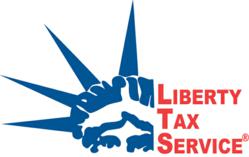 (PRWEB) May 21, 2010
Virginia Beach, VA (Vocus) May 21, 2010 -- Liberty Tax Service is the only top three tax company to demonstrate overall system growth during the challenging economic climate of 2010. The Company reports a steady increase in tax returns and revenue for the most recent tax season. Throughout this decade, Liberty Tax Service has demonstrated solid gains in an industry formerly dominated by tax giant H&R Block (NYSE:HRB). For the eighth straight year, Liberty Tax Service has grown by more tax returns than both Jackson Hewitt (NYSE:JTX) and H&R Block combined.
Liberty Tax Service prepared 8 percent more tax returns in 2010 than in 2009. System wide revenues increased 25 percent from fiscal 2009 to 2010. The Company continues to offer competitive choices allowing its growing customer base to choose between professional services in brick-and-mortar locations or do it yourself online tax preparation with its eSmart Tax product.
Aggressive marketing coupled with a strong commitment to customer service have been key factors in building a successful brand in thirteen years. Since 1998, the Company has grown from 119 offices located in Canada, to over 3,500 throughout the U.S. and Canada today.
"Our continued ability to offer customers a range of filing and bank product options is another factor in our success this year," Liberty Tax Service Founder and CEO, John Hewitt, reflected. "The Liberty Tax Service franchise opportunity is #9 on the fastest growing franchises list of the 2010 Entrepreneur 'Franchise 500'. Our franchise opportunity has an affordable price, and we are poised to add 600 new offices by January 2011."
About Liberty Tax Service
Liberty Tax Service is the fastest growing retail tax preparation company in the industry's history. Founded in 1997 by CEO John T. Hewitt, a pioneer in the tax industry, Liberty Tax Service has prepared over 8,000,000 individual income tax returns. With 41 years of tax industry experience, Hewitt stands as the most experienced CEO ever in the tax preparation business, having also founded Jackson Hewitt Tax Service (NYSE:JTX). Each Liberty Tax office offers customers audit assistance, a money back guarantee, and free tax return checking.
Liberty Tax Service CEO John Hewitt is available for interview. Contact Martha O'Gorman, LTS
Chief Marketing Officer at (800) 790-3863 ext. 8022.
# # #