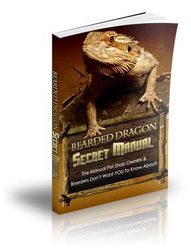 93.7% of All Bearded Dragon Owners Make One of These 37 Deadly Mistakes Which Are Intentionally, But Slowly & Surely Torturing Their Beloved Bearded Dragons To Death…
New York, N.Y. (PRWEB) July 9, 2010
The bearded dragon, known more formally as the pogona, is one of the pet shop industry's best-selling lizards, primarily because shop owners fuel the myth that it's one of the easiest species to care for. Contrary to popular belief, bearded dragons require specific environments to thrive in, and special attention and care. In his new e-book, "Bearded Dragon Secret Manual," Chris Johnson shares information and tips critical to helping bearded dragon lovers stop making deadly mistakes, and learn to properly care for their pets.
"The pet shop industry has done consumers a great disservice by marketing bearded dragons as a 'easy to care for,' much like a guppie or a terrapin," said Chris Johnson, author and expert pogona breeder. "This has led to the neglect and death of millions of bearded dragons, simply because pet shop owners know very little about them, and because they want your return business."
"Bearded Dragon Secret Manual: The Manual Pet Shop Owners & Breeders Don't Want You to Know About" is based on Chris Johnson's decade of experience breeding and caring for pogonas. The book answers common questions, reveals rare facts and insider tips, and offers strategies that are guaranteed to help bearded dragon owners not only save the lives of their bearded dragons, but also save money.
Upon purchasing the e-book, consumers who are considering purchasing a bearded dragon, or those who already own one will learn:

The most deadly mistake new owners make once bringing their bearded dragon into the home.
46 deadly plants you should never put in the enclosure of your bearded dragon.
How to properly bathe your bearded dragon.
How to save money on bearded dragons, necessary equipment and food.
How to read a bearded dragon's eye movements like a pro.
Six questions to ask to determine if you're ready to own a bearded dragon.
How to design your own cage for your bearded dragon.
Nine signs of a healthy, growing bearded dragon.
And many other tips related to bearded dragon care.
"According to a recent poll, nearly half of pet owners worry that they won't be able to afford veterinary care if needed, and many of them admit that they would not pay an expensive bill," said Johnson. "These types of statistics illustrate the importance of learning as much as you can about your bearded dragon and how to keep it healthy so you won't have to worry about veterinary bills, or getting to the point where your pet is so sick that you cannot care for it. My new book is a wake-up call, a roadmap and a must-have, comprehensive guide for bearded dragon owners who truly care about their pets and want them to thrive."
"Bearded Dragon Secret Manual" is currently available for $19 at http://www.beardeddragonsecretmanual.com. For a limited time, consumers will receive a bonus package worth $120 which includes, "Special Report: Top 50 Questions & Answers Every Bearded Dragon Owner MUST Know," "Bearded Dragon Daily Feeding Guide," "Bearded Dragon Handy Disease Busting Guide" and "Bearded Dragon Magic Care Checklist." All materials are available for immediate download upon purchase and are backed by a risk-free, money back guarantee.
About Bearded Dragon Secret Manual
Written by Chris Johnson, a bearded dragon care expert, breeder and enthusiast, "Bearded Dragon Secret Manual" provides information and tips critical to properly caring for one of the world's most popular and beloved lizards. Visit http://www.beardeddragonsecretmanual.com for more information and to purchase.
# # #