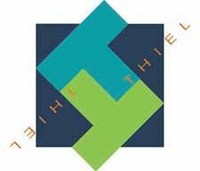 We are grateful to our clients who have allowed us to create dramatic and inspiring environments and are so honored that these designs have been recognized as extraordinary work.
Dallas/Fort Worth, TX (PRWEB) September 20, 2010
Building upon their four wins earlier in the year at the 2010 DesignOvation Awards, Thiel and Thiel, Inc. is pleased to announce that they took home five honors from the 2010 Legacy of Design Awards, which was announced at a celebratory event in Dallas, Texas, on the evening of Wednesday, August 11th.
"We are grateful to our clients who have allowed us to create dramatic and inspiring environments and are so honored that these designs have been recognized as extraordinary work," said Founder and President, Beth Thiel, RID, ASID, upon accepting the firm's awards.
Legacy of Design is the annual competition recognizing the finest interior design achievements within the Texas Chapter of the American Society of Interior Designers (ASID.org). This year's competition consisted of 38 categories open to the Chapter's 900+ practitioner members. Thiel and Thiel, Inc. received the following five honors:
MULTI-FAMILY – 1ST PLACE
Vitruvian Park – Addison, Texas | Developer: UDR
Juxtaposing high-contrast fabrics, dramatic contemporary furnishings, and highly textural architectural features such as Wovin Wall® and ShimmerScreen®, the design team reached beyond the expected to create a cutting edge environment.
COMMERCIAL SINGULAR SPACE – 1ST PLACE
Caton's Ridge – Woodbridge, Virginia | Developer: Fairfield Residential
The luxurious interiors are a result of the design team's dedication to intricate design detailing. By putting a modern twist on traditional pieces, the furnishings, finishes, and interior elements were made unique and interesting.
COMMERCIAL SINGULAR SPACE – 2ND PLACE
Legacy Village Apartments – Plano, Texas | Developer: UDR
To attract a young, professional demographic, the design team transformed a dated leasing office and clubroom into an urban chic property with a dramatic color palette and cutting-edge furniture and finishes.
HISTORIC PRESERVATION/ADAPTIVE REUSE – 2ND PLACE
Pelham Bay / Split Rock Golf Club – Bronx, New York | Developer: American Golf Corp
Great care was taken to return this 1936 building to its original grandeur, including the restoration of architectural and decorative features custom designed to re-introduce its Art Deco artistic flair.
HOSPITALITY-SERVICE – AWARD OF MERIT
Cordillera Ranch – Boerne, Texas | Developer: DH Investment
Every detail of the interior package was inspired by regional influences and customized specifically for this client. Consequently, the project has been celebrated as a true reflection of the Cordillera community.
Alongside the other 2010 Legacy Award winners, Thiel and Thiel's five winning projects will be included in the 8th Edition of the Austin-San Antonio Design Guide and the 19th Edition of The Dallas-Fort Worth Design Guide, which will be distributed October 2010 and February 2011, respectively.
Looking ahead to 2011 and beyond, the firm has high hopes of future honors for their current projects, which include The Salons of Volterra in Keller, Texas; Ridgewood Country Club in Waco, Texas; and the renovation of Wyatt Hedrick's landmark Baker Hotel in Mineral Wells, Texas.
About Thiel and Thiel, Inc.
Thiel and Thiel is an award-winning architecture and interior design firm based in the Dallas – Fort Worth area that offers a comprehensive range of services including architecture, interior design, graphic design, master planning, project management, procurement, and installation services. Owners Beth and Kurt Thiel have hand-picked professionals from across the design world to make up their team, who create complete brand strategies that are exclusive to each client and to each property. Visit http://www.thielandthiel.com to learn more about the firm's extensive array of integrated services, review their substantial portfolio, and tour MAPP™, their original, branded software tool allowing property managers to gain tight control of their master asset planning. Visit the Thiel and Thiel, Inc. Facebook page for the latest news on their current projects.
###