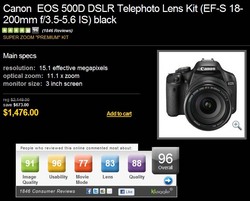 Klaggle provides us with a unique, one-stop solution that has allowed us to immediately display product review content, product ratings and specific feature ratings that are already based on thousands of unbiased consumer reviews.
Bethesda, MD (PRWEB) November 10, 2010
Klaggle announced today it has deployed its unique product and feature ratings and product review content on the Sydney, Australia-based Fotofriends website for their most popular DSLR cameras. Fotofriends' visitors will now have access to thousands of consumer insights on these products and their most reviewed features.
"Product review content was a priority for our website to enhance the customer buying experience before the upcoming holiday season, but we didn't have the time or resources to generate sufficient reviews ourselves," commented James Wyner, Director of Fotofriends. "We needed an innovative product review solution we could benefit from right away. We are thrilled that Klaggle provides us with a unique, one-stop solution that has allowed us to immediately display product ratings, feature ratings and review commentary that are already aggregated and based on hundreds and thousands of unbiased consumer reviews."
Fotofriends users now have access to overall product ratings in search listings and on product pages along with Klaggle's exclusive ratings on the most reviewed features of that product, based on what thousands of previous purchasers from across the web have said about these specific cameras. Additionally, visitors have one-click access to live product review commentary on each of the product features or attributes listed.
"We recognize that product reviews are critical in influencing buying decisions. With Klaggle, people won't have to worry about hunting or browsing for product review information on other sites," continued Wyner. "Klaggle organizes and provides website visitors with the product review information they need, via one interactive icon located on our product pages. We feel that the Klaggle product review content will keep visitors on our site, influence buyer behavior and even drive in-store traffic."
As more people go online to research products (80% according to a recent study by Nielsen), Klaggle provides retailers with a way to quickly satisfy a site visitor's research needs with product review content that is already based on a high volume of consumer reviews. And Klaggle's product feature ratings and live consumer review commentary help visitors find unbiased and meaningful information on the features that are most important to them in their buying decision, without having to question too few reviews or wade through hundreds of reviews to find any information of value.
"We are extremely pleased to be working with Fotofriends to help them further engage with their website visitors," said Stephen Candelmo, CEO of Klaggle. "At Klaggle, we are focused on helping online retailers be more successful and creating additional value to their website with rich product review content. Our product review solutions give retailers a quick and easy way to provide review content with a win-win scenario. Visitors receive product review information that is meaningful and easy to consume, and retailers gain the credibility and advantage of instantly providing product review content based on hundreds, even thousands, of consumer perspectives."
The Klaggle technology behind its product ratings and review content are fully hosted applications that are embedded into the website with just a few simple lines of code. Once installed, product ratings dynamically render in search listings and product pages. Likewise, the interactive product feature ratings and review commentary application renders on the product page above the manufacturer details so it cannot be missed.
For more information on Klaggle product ratings and product review solutions, visit http://www.klaggle.com or email info(at)klaggle(dot)com to request a personal demonstration.
About Klaggle
Klaggle is the only content, analytics and application services provider of online product and feature ratings and product review commentary based on analysis of opinions found in consumer reviews from across the web. Klaggle helps retailers and online sellers accelerate customer purchasing behavior and increase revenue by enabling them to immediately place product ratings as well as compelling and interactive product feature ratings and review commentary on their product pages that are based on a high volume of reviews. Klaggle's revolutionary product review content solutions provide a meaningful experience for consumers in making informed purchasing decisions, right at the point of sale. For press inquiries, please email press(at)klaggle(dot)com.
About Fotofriends
Formed in 2002 Fotofriends occupies a location in Bansktown in Sydney's Sth West that has been a photographic destination store for over 40 years. In a market dominated by photo chain and big box stores, Fotofriends is one of the few successful independent photographic retail operators in Australia. Fotofriends takes their deep passion for image making and translates that into providing friendly unbiased expert, customer service. In 2008, Fotofriends launched an online store, Fotofriends.com.au, which has enabled them to provide their products and customer-focused philosophy throughout Australia and world-wide. For more information on Fotofriends, visit http://www.fotofriends.com.au.
# # #