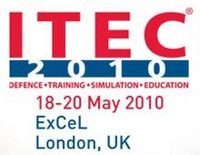 We are thrilled to participate at this year's ITEC conference
San Jose, CA (Vocus) May 18, 2010
CyberGlove Systems once again teams up with Shadow Robot along with Engineering Systems Technologies (EST) to demonstrate the latest technologies at the annual European Defense Training and Simulation event, ITEC, which is scheduled to be held in London from May 18-20. The prestigious 3 day ITEC Conference will cover a comprehensive array of subjects including training solutions, systems, methodologies and procurement.
"We are thrilled to participate at this year's ITEC conference," said Faisal Yazadi, CEO of CyberGlove Systems. "Thanks to partners in Shadow Robot and our top European reseller EST, we are bound to have a fantastic showing. I'm really pleased that EST has given us the opportunity to showcase in their booth. What we have in store for the event will definitely be a show stopper and I can't wait to unveil the demo we have been working on."
Shadow Robot Company who is known for developing state of the art robotic components and systems, specifically the Dextrous Hand robot, has received much attention over the years. In 2009, the company received The ELRIG Technology Award, and the UK Ministry of Defense had been considering their solution. "We have come a long way with our Shadow Hand product, and we're very proud of the work and attention we've been able to accomplish," stated Rich Walker, Managing Director of Shadow Robot Company. "We're very interested in presenting our solutions to the defense market, and ITEC is the perfect platform to do so. Prepare to be transported and amazed with the demo we've put together!"
ITEC 2010 is set to be held from May 18–20 at ExCeL, London, UK. You can find us at the EST booth, #A150.
For more information, please contact Faisal Yazadi, CEO of CyberGlove Systems, Rich Walker, Managing Director of Shadow Robot Company, or Frank Gross of EST.
CyberGlove Systems is the worldwide leader in data glove technology and offers the most sophisticated hand-centric motion capture solutions in the marketplace. CyberGlove Systems' products include four different data glove solutions (CyberGlove®, CyberTouch®, CyberGrasp® and CyberForce®) and its VirtualHand Software Development Kit (SDK). Its products allow users to capture detailed finger, hand, and arm movement in virtual reality, allowing users to interact with digital objects in virtual reality.
CyberGlove Systems technology benefits customers by allowing them to more quickly prototype and animate in virtual reality thereby saving them both time and money. Furthermore, CGS is the only data glove solution offering both kinesthetic force and vibrotactile feedback. This haptic technology benefits customers by simulating realistic physical forces such as gravity and touch for industrial engineering, military, and academic research applications. CGS customers include Fortune 500/Global 500 corporations, government agencies, and universities in the U.S., Europe, Asia, Middle East and South America.
Established in 1990, the CyberGlove® Systems family of products remains the most trusted and widely used data glove solution today with the very best customer support.
The Shadow team has been developing state of the art robotic components and systems since 1987. The Company was formed in 1997 to exploit commercial opportunities, and today supplies advanced robots to organisations all over the world, including space agencies, government departments and leading universities.
Shadow's key technology is the Dextrous Hand, which provides a robot with the same movement capabilities as the human hand. This can replace humans in difficult, dirty or dangerous tasks, as well as opening up entirely new areas for advanced robotics.
EST, one of Europe's leading distributors of Virtual Reality, Augmented Reality, and Visual Simulation hardware and software.
With over 15 years of experience in the business, EST serves a base of more than 2,000 customers in fields including research and development, education, automotive, aerospace, military, medicine, oil and gas, art, broadcast, and security.
###