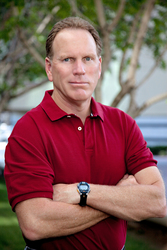 In the business world, people are held accountable for results, and it should be no different in Congress.
Phoenix, AZ (PRWEB) July 20, 2010
Republican Congressional candidate Steve Moak focused attention on runaway government spending today by publicly promising to step down from Congress if the federal budget is not balanced within six years of his taking office. This pledge represents Moak's commitment to "fire himself" and not seek reelection if the budget is not balanced by 2016. He is running for the seat currently held by conservative Republican John Shadegg, who is retiring.
"In the business world, people are held accountable for results, and it should be no different in Congress," Moak told a gathering of voters from Congressional District 3 today. "This pledge is a real and measurable commitment to the people of CD3. If the budget isn't balanced in six years, I'm out of a job. No gimmicks, no fine print," he added.
Moak's balanced budget pledge is backed by a long and successful business career built on honesty and integrity. He publicly called on all other candidates in CD3 to make the same promise to voters and agree to step down after three terms if Congress fails to balance the budget. Moak will also publicize his pledge in a television commercial airing on major broadcast outlets and available on YouTube.
"We have sent too many people to Washington who view Congress as a life-long job and ignore the concerns of the people who elected them in the first place," Moak said. "Balancing the budget is critical to our long term economic growth and to restoring business and consumer confidence. Congress has the ability and obligation to solve this problem. That's why I'm making this pledge and I strongly encourage other Congressional candidates to do the same."
Steve Moak's career has centered on making the lives of those around him better by creating jobs and founding and supporting charitable organizations such as notMykid. He will draw on his business and life experience to find solutions to the problems facing our nation. Steve Moak brings a new approach of results and accountability to the political arena. For more information visit http://www.MoakForCongress.com.
# # #