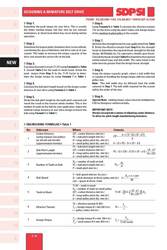 THE FACT THAT SETS SDP/SI ABOVE THE OUTERS IS SUPERIOR PERSONNEL EMPLOYING TOP-NOTCH EQUIPMENT
New Hyde Park, NY (PRWEB) September 3, 2010
A new series of 1 mm pitch polyurethane timing belts from Stock Drive Products (ISO 9001:2000 Registered Manufacturer) are designed for miniature applications. These 3 and 6 mm wide metric timing belts, identified as the A 6B18M... Series offer Kevlar cord reinforcement and are stocked in 22 different groove sizes ranging from 94 to 559 mm (3.701" to 22.008"). Also stocked are polyurethane belts with fiberglass reinforcement cords. These are identified as the A 6G18M...Series and are stocked in pitch lengths from 142 mm to 705 mm (5.591" to 27.756"). These are the smallest standardized pitch timing belts available anywhere, an important option to consider when trying to miniturize your product design for prototype or production application. The breaking strength of the Kevlar belts (double span) is 300 N per 1 mm (214 lbf. per 1/8 in.). The breaking strength of the fiberglass belts (double span) is 165 N per 1 mm (117 lbf. per 1/8 in.). Their temperature range is -30°C to +85°C (-22°F to +185°F).
These polyurethane belts are designed to run with 1 mm pitch timing pulleys which are also stocked by SDP. The pulleys are offered with double flange and with no flange. Pitch diameters range from 5.73 mm to 23.87 mm and bore sizes range from 2 mm to 5 mm. Pulleys with 18 to 45 grooves have 1 set screw, others have 2 at 90°.
Quotes, online orders, available stock, and 3D CAD Model downloads are available at our new eStore at: http://www.sdp-si.com/eStore. SDP/SI offers over 100,000 power transmission components including: gears, belt and chain drives, shafts, shaft accessories, bearings, couplings, universal joints, vibration mounts, miscellaneous components, hardware, gearheads and speed reducers, right angle drives, brakes and clutches, motors and gearmotors.
Detailed specifications can be viewed online in the eStore at http://www.sdp-si.com.
Stock Drive Products, 2101 Jericho Turnpike, P.O. Box 5416, New Hyde Park, NY 11042-5416. Phone: 516-328-3300 • Fax: 516-326-8827.
Web: http://sdp-si.com/web/html/newprd1mmbelts.htm
Note to Editor: An electronic version of this release including a 300 D.P.I. at 3" wide .JPEG image can be downloaded at:http://sdp-si.com/web/html/newprd1mmbelts.htm
###