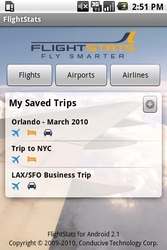 Five Stars! Excellent application! Works great on Droids, has never frozen and I love the fact that I now had access to the FlightStats network right from my phone. - Connor, an Android user
Portland, OR (PRWEB) March 15, 2010
FlightStats, a flight tracking and airport information service provided by Conducive Technology Corp., today announced new versions of its popular travel applications for Android smart phones – FlightStats for Android v 2.1 and FlightStats Lite for Android v 1.1. The company also announced an optional paid upgrade to FlightStats for Android v 2.1 that allows users to import full itineraries for their trips from their TripIt(tm) Itinerary service accounts.
FlightStats for Android v2.1 is primarily a flight tracking application providing current status on flights operating around the world. This new version covers a broader set of trip elements by including the ability to enter hotel reservations, rental car information, confirmation codes, etc. Trips can be named, saved and edited or updated using the Android device's touch screen or keyboard. Trip details can be displayed with or without a network connection for easy reference even while flying. The new version's price has also been reduced from $6.99 to $4.99.
Other functions include display of current airport delay conditions, a "next flight out" feature to find available seats on alternative flights in the event of a missed flight or a cancellation, map-based flight tracking, airline contact information, driving directions to airports and more.
The FlightStats TripIt Sync Upgrade for v2.1 provides a shortcut for capturing trip details by allowing trip information to be imported from any TripIt account. The TripIt service makes it easy to build complete itineraries by simply forwarding confirmation emails from a host of airlines, hotels, travel agencies, and rental car companies. The upgrade then connects the FlightStats application to the TripIt account to retrieve entire trips from authorized TripIt accounts without hand entry. Once imported, FlightStats for Android v2.1 tracks the status of each and every flight in all saved trips for easy flight tracking and updates on delays, cancellations, gate changes, etc. This optional upgrade is now available in the Android Market for $1.99.
FlightStats Lite for Android, the most popular flight tracker on Android with over 50,000 downloads, has also been updated to version 1.1. This free, ad-supported application wraps an Android user interface around the FlightStats mobile web site (m.flightstats.com) providing an auto-suggest lookup for airport and airline codes to make it easier to enter flight and airport search criteria. The new version allows users to save their flight searches making it easy to get accurate, timely and complete updates on flight status. The app also supports airport information searches on over 16,000 airports, airport arrival and departure status search, airport weather and delay information, and airline contact information.
About FlightStats
FlightStats is an airline, airport, and travel information service provided by Conducive Technology Corp. Headquartered in Portland, Oregon, the company provides flight status data, flight monitoring and alerts, airport delay information and much more to mobile developers, airlines, travel agencies, airports, hotels and Web developers worldwide via APIs, data feeds and RSS feeds. On the FlightStats Web site at http://www.flightstats.com/, visitors can get flight status, track flights, view on-time performance ratings by flight or by airline, check for current airport delay and weather information, and much more. FlightStats provides global flight status information and is the definitive source for historical airline performance data.
###