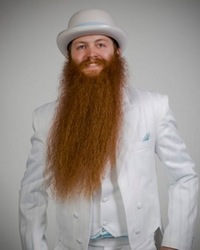 Bend is looking forward to showing the world that our beards and beer are second to none.
Bend, OR (PRWEB) May 14, 2010
Facial hair aficionados will have to wait until June 5 to see the nation's best beardletes compete in the 2010 National Beard and Moustache Championships in Bend, Oregon. But the whisker wars have already begun online.
Tickets ($10) and Registration ($40) are now available online at the Beard Team USA website. In addition, the 2010 National Beard and Moustache Championships has launched a Facebook page, and @BeardStacheNats is tweeting. Conan O'Brien has yet to respond to the twitter challenge to "Bring yourself and your beard (@CoCosBeard) to #inBend #Oregon for the Beard & Moustache Nationals."
"While Bend is famous for its breathtaking scenery and unparalleled outdoor recreation, we're looking forward to showing the world that our beards and beer are second to none," said Doug La Placa, President and CEO of Visit Bend, the organization that courted Beard Team USA to Bend. "Beardletes love nothing more than good beer, and Bend has seven craft breweries to choose from." The weekend of fun will also include the 8th Annual "Balloons Over Bend" in the Old Mill District.
The National Beard and Moustache Championships will be the first national facial hair championship held in the USA. Hosted by Beard Team USA, the competition is open to everyone, regardless of age, gender, nationality, or team affiliation. Already, Beard Team Canada has announced plans to attend. Other international groups may come too. Moreover, unlike other prestigious athletic events, there will be no annoying tests for performance-enhancing drugs.
The Competition will take place in four categories, with the winner in each category walking away with $1,000. So that every competitor gets a shot at the prize money, a fifth $1,000 prize will be awarded to a contestant selected at random. Additionally, a locals' category for Deschutes County, Oregon residents will be incorporated into the festivities.
Official categories include:

Best Moustache: Beards are allowed in this category, but contestants will be judged on their moustaches only.
Best partial beard: Includes goatees, Van Dykes, sideburns, musketeers, etc.
Best full beard: Styling aids are permitted.
Freestyle: Anything goes… Anything. Be creative.
Beard Team USA, whose motto is, "Growing Beards for America," was founded in 2003 to represent the United States at the biennial world championships. Although long dominated by European groups, U.S. newcomer and youngster Jack Passion (age 25), who will emcee the Nationals in Bend, won in 2007 and 2009, and is the reigning World Champion. America's team now boasts over 1500 members nationwide and over 50 local chapters. Professional photos of beardletes including Passion are available upon request.
About Visit Bend
Visit Bend is a non-membership, non-profit economic development organization dedicated to promoting tourism on behalf of the City of Bend. For more information or to order a complimentary Official Visitor Guide to Bend, contact Visit Bend at 800-949-6086 or visit http://www.visitbend.com.
# # #