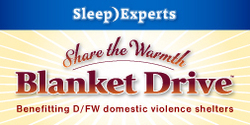 Every November we ask North Texans to Share the Warmth with domestic violence victims through the simple gift of a new or gently used blanket.
Carrollton, TX (PRWEB) October 26, 2010
Sleep Experts announces its 7th annual Share the Warmth Blanket Drive, benefiting Genesis Women's Shelter, and asks North Texas families to drop off new or gently used blankets at any of the company's 34 store locations, now through Thanksgiving. This year's drive shines the spotlight on teen dating violence, with Highland Park High School and Rockwall-Heath High School joining forces to collect blankets and raise awareness of this type of domestic violence.
The two schools will kick off Share the Warmth by collecting blankets on campus this week and encouraging students and their families to bring donations Friday night when the Class 4A football teams meet at Highland Park's Highlander Stadium. CBS 11 News, a Sleep Experts media partner, will be following both schools' efforts throughout the week, and its sister station TXA21 will provide complete Share the Warmth coverage during the broadcast of the Highland Park / Rockwall-Heath High School Football Game of the Week.
"Every November we ask North Texans to Share the Warmth with domestic violence victims through the simple gift of a new or gently used blanket," said Christine Cook, wife, mom and president of Sleep Experts. "This year we are thrilled that these two strong school communities are joining us to recognize the great work of Genesis Women's Shelter and raise awareness of teen dating violence."
Jan Langbein, executive director of Genesis Women's Shelter, says that Share the Warmth is about more than just sharing blankets. "We are sharing not only physical, but emotional warmth with women and children who may have fled their homes in the middle of the night to escape abuse, leaving everything behind."
In addition to blankets, Sleep Experts accepts donations of other items that provide warmth and comfort for shelter residents, including, sheets, pillows, comforters and towels. For a list of store locations and maps visit http://www.sleepexperts.com/stores/all-stores/.
Facts about Teen Dating Violence
Teens who are in an abusive dating relationship often do not recognize the dangers and are the least likely to share their experiences with friends or family members. Genesis Women's Shelter works to educate and promote awareness of relationship violence in the teen years, in order to prevent the occurrence of abusive relationships.
Consider the following statistics and visit http://www.loveisrespect.org for more information:

40% of teenage girls ages 14 to 17 report knowing someone their age who has been hit or beaten by a boyfriend.
Violent relationships begin at an average age of 15.
Females ages 16-24 are more vulnerable to intimate partner violence than any other age group.
Physical and sexual abuse against adolescent girls in dating relationships increases the likelihood that the girl will abuse drugs and/or alcohol, develop an eating disorder, consider and/or attempt suicide, engage in risky sexual behavior and/or become pregnant.
About Genesis Women's Shelter
For twenty-five years, Genesis Women's Shelter has been committed to providing quality safety and shelter to battered women and their children through crisis intervention and short-term crisis therapeutics and to reducing the occurrence of violence against women and children in the greater Dallas area. Genesis Women's Shelter is also committed to raising the level of community awareness regarding the pervasiveness and effects of domestic violence. The agency has provided free and confidential counseling and case management to over 25,000 women and children in the last twenty-five years. In 2010, Genesis Women's Shelter celebrates their Silver Anniversary by honoring their past and embracing their future as the agency continues the mission of providing safety, shelter and strength to victims of domestic violence. For additional information about Genesis Women's Shelter, please visit http://www.genesisshelter.org.
About Sleep Experts
Sleep Experts, a mattress retailer with 34 locations in the Dallas/Fort Worth Metroplex, offers a broad selection of innerspring mattresses, foam mattresses and air mattresses, with brands including Tempur-Pedic, ComforPedic, Simmons, Beautyrest, Laura Ashley, Aireloom, Life Number and Sleep Designs. The company's mission is to exceed customers' expectations, and it backs this pledge with a One Year Love Your Mattress Guarantee™. Recent accolades include the Dallas Business Ethics Award, four consecutive Consumers' Choice Awards®, and top workplace awards from both Dallas Business Journal and The Dallas Morning News. Sleep Experts shares the gift of sleep with families in need by donating customers' old mattresses to D/FW charities. For more information, visit http://www.sleepexperts.com or call (888) 55-SLEEP.
###