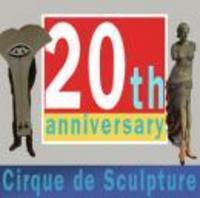 "sculpture energizes the space it occupies reflecting the artists' love for material and form" Brigitte Micmacker, Curator & Gallerist - Scupturesite & A New Leaf Gallery
San Francisco, CA (PRWEB) May 31, 2010
On June 12th & 13th, Sculpturesite Gallery (SF) & A New Leaf Gallery (Sonoma) partners, Brigitte Micmacker & John Denning will be throwing two exciting parties and a fun Cirque de Sculpture Contest to celebrate their Partnership and to express their deep appreciation for the many collectors, artists, public works professionals, colleagues and visitors who've passed through their Gallery doors over the last twenty years.
Brigitte and John own and operate two unparalleled Galleries, exclusively offering Sculpture. Naturally, they wanted an event that drew upon their love of art and whimsy and was most of all, fun. They came up with the idea to reach out to the local art schools offering students a chance to express their creativity and compete for prize money.
Young creatives will attend the gallery events dressed/decorated as a Living Sculpture, with attendees voting for their favorites (result - 3 finalists per event). Immediately following, the six finalists will have their pictures and a video posted online where the second round of voting will begin. The six finalists will have 72 hours to ask their friends, relatives and fans to go online and vote for them at the website (http://www.sculpturesite.com ). Cash prizes range from $100-500. Winners will be announced through our Website, Twitter and email.
RSVP at http://www.sculpturesite.com - by June 8.
To participate, young artists can contact the gallery for an entry form (posted @ http://www.sculpturesite.com/News-Detail.cfm?NewsID=48 )
Saturday, June 12th at the Sculpturesite Gallery, San Francisco, Emmy- winning hairstylist, Curt Darling will perform on two models, transforming ordinary hairstyles into stunning avant-garde works of art.
PR Contact: Judy Trummer - Stratigon Sonoma
phone/text: 415-336-7835 email: stratigon(dot)sonoma(at)gmail(dot)com
Gallery Contacts: Brigitte Micmacker or John Demming
phone/text: 510-847-9417 email: info(at)sculpturesite(dot)com
Gallery Locations:
À Sculpturesite: Convention Plaza - 301 Third Street, Suite 102, San Francisco, CA 94103
Phone: (415) 495-6400
À A New Leaf Gallery: Cornerstone Sonoma - 23588 Arnold Drive (Hwy 121) Sonoma, CA 95476
Phone: (707) 933-1300
Virtual Press Room: click here
# # #