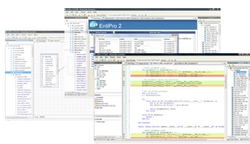 "Sometimes the smartest solutions are also the simplest ones," Ayman Altarabulsi, President and CEO of EntiCraft, LLC.
Dallas, TX (PRWEB) May 4, 2010
The Dallas-Texas based company EntiCraft released today what it claims to be the most robust source code generation tool currently on the market. EntiPro boasts a truly innovative and unique source code generation approach that will be appreciated by developers and system architects at all levels. Unlike other products currently on the market, the entire EntiPro framework was developed around a single concept… Simplicity! In fact, that is what powers EntiPro's underlying robustness as a template-based source code generation tool. The innovative concept breaks all boundaries of programming languages and focuses instead solely on creativity. What differentiates EntiPro is how easy it is to visually create powerful templates through simple color coding logic and how that drives the entire source code generation process – without having to learn any new languages.
"Sometimes the smartest solutions are also the simplest ones," states Ayman Altarabulsi, President and CEO of EntiCraft, LLC. "This is definitely a must have tool in every IT developer's toolbox." Regardless of the underlying environment, EntiPro can be used to save hours upon hours of development time while helping maintain coding standards and launching applications much faster. Unrestricted by a specific programming language or framework, and with full SQL Server and Oracle support, EntiPro is suitable for any development effort. "Sure, there are other similar tools out there, but none seem to have the combined flexibility and simplicity of EntiPro."
Another area of source code development that EntiPro promises to streamline is source code maintenance. With the current economic environment, there is a growing need to release products to the marketplace quicker than ever before, and at a much lower cost. This type of pressure translates to more difficulty in maintaining source code quality while maintaining lower costs. According to the National Institute of Standards and Technology (NIST) maintenance costs increase exponentially during the development life cycle. The NIST study states that "…if the same error is not found until the integration and component/RAISE system test stage, it costs 10 times more to fix. This is due to the reengineering process that needs to happen because the software developed to date has to be unraveled and rewritten to fix the error that was introduced earlier in the production process." - NIST Study*.
The same finding adds that maintenance costs after release could reach as much as 30 times what they would normally cost to maintain code at design time. Therefore, it is critical to have sound coding standards early in the development life cycle to control such costs. This is where EntiPro steps in. Architects and senior developers can create templates to be used throughout the enterprise that ensure standard coding practices are used and developers adhere to them. EntiPro will develop a large percentage of source code and will complement existing tools to make developers develop even better code – faster! "It truly creates better developers as they no longer have to worry about the mundane and repetitive tasks that are costly, especially when they could also negatively impact their performance and quality," says Ayman Altarabulsi. "The Enterprise-level comprehensiveness of EntiPro and the wide-area that it covers allows this single tool to be used by multiple teams working on different platforms, all controlled by a single set of coding standards – Utopia."
And if the ability to update almost the entire application automatically every time there is a change to the database schema is not fast enough for you, consider EntiCraft's Template Exchange online service. "We launched Template Exchange back in April and are excited to have that integrated now directly into the EntiPro framework. Developers can now have all the online templates right at their finger-tips and available for immediate import directly into their EntiPro projects."
EntiCraft, LLC provides professional development systems and consultations worldwide and is located at 18352 Dallas Pkwy #136 Ste 201 in Dallas, Texas. For more information about the company and their services, visit http://www.enticraft.com.

Resources: NIST," The Economic Impacts of Inadequate Infrastructure for Software Testing", May 2002.
###