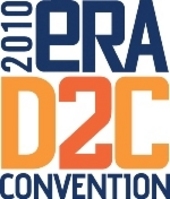 Arlington, VA (PRWEB) September 16, 2010
The Electronic Retailing Association is excited to welcome back the team from PitchMen to the 2010 ERA D2C Convention, taking place September 21-23, 2010 at the Wynn Las Vegas. The crew will be on-site filming for PitchMen, the popular show on Discovery Channel.
"ERA is thrilled to have Anthony Sullivan and the team from PitchMen filming at the 2010 ERA D2C Convention," says Julie Coons, ERA's president and CEO. "Anthony is a charismatic, iconic figure in the direct response industry and having him—and his team—filming at D2C only adds to the growing excitement surrounding the 20th anniversary of the event."
The PitchMen team will also have a booth on the show floor. Visit booth 1403 to watch potential inventors pitch their products for a chance at a $2,000 cash prize.
"The ERA D2C Convention is a perfect location for the PitchMen team to film auditions," says Sullivan. "It's the premier event of the year and a perfect place for us to seek out the next big thing and for inventors to get in front of industry leaders."
For more information on how to be a part of the PitchMen event, contact Jennifer Crawford, vice president marketing/communications at Jennifer(at)SullivanProductions(dot)com.
About the 2010 ERA D2C Convention
The Electronic Retailing Association's 2010 ERA D2C Convention is the 20th annual show where the industry's top technology innovators, manufacturers, buyers and marketers meet to learn about the hottest trends in the direct-to-consumer marketplace and meet with partners and potential customers to seal critical business relationships. The event will feature more than 3,200 attendees and over 100 exhibitors, a variety of education sessions on industry related topics and expansive networking opportunities, as well as wide variety of events on the tradeshow floor. For more information, please visit http://www.D2Cshow.org.
About the Electronic Retailing Association
Representing a more than $300 billion market, the Electronic Retailing Association (ERA) is the only trade association in the U.S. and internationally that represents leaders of the direct-to-consumer marketplace, which includes members that maximize revenues through electronic retailing on television, online and on radio. ERA strives to protect the regulatory and legislative climate of direct response while ensuring a favorable landscape that enhances e-retailers' ability to bring quality products and services to the consumer. ERA members include some of the industry's most prominent retail merchants, including Allstar Products Group, eBay, Discovery Communications, Gaiam, Google, Guthy-Renker Corporation, HSN, Oak Lawn Marketing, QVC, Telebrands, ShopNBC and Thane. For more information about ERA, please visit http://www.retailing.org.
###