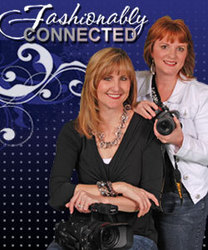 Webcasting is the latest trend in social media technology and gives fashion designers opportunities for exposure like never before.
Austin, TX (PRWEB) April 28, 2010
Fashionably Austin will webcast for the first time ever, live, the highly-regarded Annual Fashion Show held by the University of Texas Apparel Design Program, allowing fashion industry professionals around the world to see new talent and designs from the prestigious fashion design school. Not only do young student designers have an unprecedented opportunity for international exposure, the fashion show live webcast has a very special benefit for one father serving in Afghanistan -- he won't have to miss seeing his daughter debut her fashion designs on the runway. He will have an opportunity to watch her in the fashion show live while he is serving in the U.S. Military, thousands of miles away in Afghanistan.
"We are excited to provide a live webcast and bring this special coverage spreading the word on a broader scale about these talented UT fashion designers," said Cheryl Bemis, co-creator of Fashionably Austin. Two of the UT student designers in the "High Voltage" fashion show are interviewing with Marc Jacobs, one interned with Betsey Johnson last summer and another already has a design place at Diane Von Furstenberg. "Webcasting is the latest trend in social media technology and gives fashion designers opportunities for exposure like never before." She and her partner, Melissa Shea, are changing the way fashion businesses and consumers are connecting and communicating.
Fashionably Austin is a part of the Fashionably Connected network, an online magazine with video highlights, live event webcasting and a fashion industry directory that features the stories of local fashion industry professionals and a searchable directory that provides fashion-related businesses exposure in their local community and beyond. Fashionably Connected also offers live streaming webcast services to designers for their fashion shows and web marketing.
Their most recent webcast streamed the Spring fashion show by Chloe Dao, Project Runway season 2 winner, from Houston, Texas. Melissa and Cheryl provide video and photography coverage of New York Fashion Week for the Fashionably Connected online magazine and will be attending Berlin Fashion Week and Vienna Fashion Week, Miami Swim and Mercedes-Benz Fashion Week in September.
Fashionably Connected recently partnered with the innovative technology firm netSpray, a Social Ad Marketing (SAM) and Social Media Marketing (SMM) services provider, utilizing their state-of-the-art proprietary technology to connect designers, boutiques and related industries to fashion-conscious consumers in their community and around the world. The joint collaboration enables Fashionably Austin to brand and market their fashion connections through live streaming webcasts and Spotlight PortfoliosSM, creative outlets that allow fashion businesses to increase communications through innovative social media tools, techniques and services.
For more information on the University of Texas Fashion Show "High Voltage" on April 29th, from 8-10pm, and to receive details about viewing the streaming live webcast, visit http://www.FashionablyAustin.com.
# # #