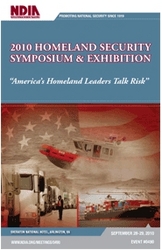 America's Leaders Talk Risk.
Washington, DC (Vocus) August 20, 2010
The National Defense Industrial Association (NDIA) will hold its annual Homeland Security Symposium & Exhibition on September 28-29th at the Sheraton National Hotel in Arlington, VA. Hosted by NDIA's Homeland Security Division, the event will address the theme, "America's Leaders Talk Risk."
For the past four years, the Homeland Security Division of the National Defense Industrial Association (NDIA) has produced an annual symposium that has brought hundreds of public, military and private sector members together to share, discuss and engage some of our nation's most important issues. The results have been impressive with dynamic Speakers, innovative panels, news-making headlines and business and partnership opportunities occurring each year. This year's symposium coincides with 'National Preparedness Month.'
The Symposium will feature confirmed keynote addresses by:
Mr. Rand Beers, Under Secretary for National Protection and Programs Directorate (NPPD); The Honorable Michael Chertoff, Founder & Principal, The Chertoff Group and former Secretary, U.S. Department of Homeland Security; and Dr. Andrew Purdy, Chief Cybersecurity Strategist, Computer Sciences Corporation and former Senior Cyber Security Advisor, U.S Department of Homeland Security
Engaging Panels such as:
International and Domestic Terrorism, Natural Disasters, Border Security, Cyber Threats, Critical Infrastructure Protection, and Homeland Security Media Coverage
Confirmed Panelists will include:
Chief Michael J. Fisher, U.S Border Patrol; Ms. Tina Gabbrielli, Director, Office of Risk Management and Analysis, U.S Department of Homeland Security; Mr. Jay Ahern, Principal, The Chertoff Group (former Deputy Commissioner, Customs and Border Protection, DHS) ; Mr. Keith Morrison, Battalion Chief, Fairfax County's Urban Search & Rescue Team; Mr. Charley Shimanski, Senior Vice President of Disaster Services, American Red Cross; Mr. Brian Kamoie, Senior Director for Preparedness Policy, the National Security Council, the White House; Vice Admiral David Pekoske (Ret), former Vice Commandant, U.S. Coast Guard (Ret); Mr. Rob Cruz, Vice President, Terrorism and Global Response, Hiscox USA; Mr. Rich Espositio, Reporter, ABC News; Mr. Chris Battle, Founder and Executive Editor, Security Debrief; and Ms. Jeanne Meserve, Homeland Security Correspondent, CNN, just to name a few.
The National Defense Industrial Association is a non-profit, educational association whose mission is to advocate cutting edge technologies in support of America's war fighters and first responders, promote a responsive government-industry national security team, and provide forums for the exchange of information between government and industry on national security matters. Originally founded in 1919, NDIA today represents 1,700 member companies and over 85,000 individual members providing national security technologies, products and services for America's war fighters and first responders.
For further information and to register, go to http://www.ndia.org/meetings/0490.
###