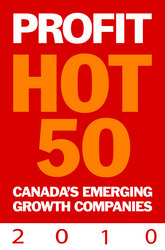 "Creativity, foresight and focus are just some of the traits required to launch a successful business in today's volatile marketplace," says Portsmouth.
Vancouver, Canada (PRWEB) September 15, 2010
PROFIT Magazine today announced I&W Research Inc. as one of Canada's 50 Emerging Growth Companies, a prestigious title that has exemplified the success of the organization since it began operating in 2007. The PROFIT HOT 50 is the definitive ranking of Canada's Emerging Growth Companies. Published in the October issue of PROFIT magazine, the PROFIT HOT 50 ranks young firms by two-year revenue growth.
I&W Research Inc. develops and commercializes innovative natural ingredients derived from plant by-products. Drawing from Canada's abundant agricultural resources and developing their own cutting-edge processing techniques and products the company has emerged as Canada's leading supplier of sustainably produced fruit-based ingredients with exports across the globe.
Managing Director and founder Dr. Wilma Pretorius shares some insight into what had brought I&W Research to "fruition": "Our mission is producing the highest quality and safest whole food organic ingredients. Respect for every part of our supply and distribution chain, from environment to end consumer, is key. We remain agile through the use of online technologies, which allow us to offer superlative customer service given the size of our company. Our contributions to independent nonprofits constitute an above average percentage of our after-tax earnings because we believe that corporations should drive social change. This strategy seems to be paying off for us: between 2007 and 2009 we achieved over 600% revenue growth, and we count some of the world's largest multi-national companies among our valued clients."
The company has had to contend with many business risks as it exports the majority of its ingredients across the globe. "One of the key factors behind our stability and growth has been the diversification of our customer base," said Ryan Calvert, the companies Director of Sales.
Ian Portsmouth, editor of PROFIT: Your Guide to Business Success, attributes the success of I&W Research Inc. and fellow members of the 2010 PROFIT HOT 50 down to certain key qualities:
"Creativity, foresight and focus are just some of the traits required to launch a successful business in today's volatile marketplace," says Portsmouth. "This year's PROFIT HOT 50 leaders have these qualities in abundance, plus many effective management ideas that other business owners would do well to borrow."
"It is an honour to be included on PROFIT Magazines Hot 50 list. It is validation not only for us, but for all other companies that choose to go green. A socially responsible and environmentally sustainable business can grow and prosper," Dr. Pretorius said.
About I&W Research
I&W Research Inc. is committed to sustainable and socially responsible business practices. The company offsets part of the greenhouse gases generated from its shipping through a partnership with Carbonfund, a US based non profit organization. The company is certified organic to food grade standards in Canada, the USA and the European Union, and is a member of the Organic Trade Association.
I&W ingredients are used by both small and multi national companies to manufacture a diverse range of products including functional foods and personal care products. The company recently started a retail division and currently manufactures an award winning animal health product line. I&W products are exported to Europe, Asia and the USA.
Visit http://www.i-and-w.com for more info.
About PROFIT Magazine:
PROFIT: Your Guide to Business Success is Canada's preeminent publication dedicated to the management issues and opportunities facing small and mid-sized businesses. For 28 years, Canadian entrepreneurs and senior managers across a vast array of economic sectors have remained loyal to PROFIT because it's a timely and reliable source of actionable information that helps them achieve business success and get the recognition they deserve for generating positive economic and social change. Visit PROFIT online at http://www.PROFITguide.com.
###