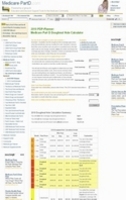 Our PDP-Planner is designed to provide an estimate based on the CMS defined standard benefit and, although most private Medicare Part D plans offer a variation of deductibles and cost-sharing options, we find that this defined standard benefit acts as a good benchmark for upcoming Part D coverage
Saint Augustine, FL (Vocus) February 22, 2009
Seniors and Medicare beneficiaries can plan on increases in 2010 Medicare Part D prescription drug plan coverage parameters, but the changes are not so extreme as in previous years. Based on the recently released information from the Centers for Medicare and Medicaid Services (CMS), Medicare Part D plan parameters such as initial deductible, initial coverage limit and out-of-pocket threshold limits will increase in 2010 by 3.13% as compared to the 7.54% increase in 2009. An online summary comparing the CMS Medicare Part D defined standard benefit parameters from 2006 through 2010 are available at Medicare-PartD.com/2010. Several of the 2010 low-income subsidy or extra-help values are still tentative and will be finalized as additional information becomes available.
To help seniors and other Medicare beneficiaries better understand the 2010 changes in the Part D plan benefit parameters, Medicare-PartD.com released their online 2010 PDP-Planner tool. PDP-Planner allows users to visualize how they could potentially move through their Medicare Part D plan from initial deductible (if applicable) into the initial coverage phase, through the coverage gap, and maybe even into the catastrophic coverage portion of their Medicare Part D coverage.
"Unfortunately, even with three years of experience, we are finding that many people are still having difficulty understanding the coverage provided by their current Part D plans," noted Dr. Susan Johnson, technical director of the Medicare-PartD.com website. "It is our hope that the 2010 PDP-Planner will help Medicare Part D beneficiaries visualize prescription spending during the various phases of next year's Part D plan coverage. To help people get started, we have provided a few PDP-Planner examples for those unfamiliar with the phases of a Medicare Part D prescription drug plan."
Users of PDP-Planner can enter estimated retail prescription costs based on their current drug spending and, if desired, change Medicare Part D plan parameters values, such as the initial deductible, to get an idea of how they will move through the phases of their Part D plan. For instance, a Medicare beneficiary who chooses a 2010 Part D plan modeled after the CMS defined standard plan will notice the slight increase in the initial deductible limits. The 2010 initial annual deductible will increase to $305 from the current 2009 value of $295. Beneficiaries will enter the 2010 donut hole or coverage gap when the total retail cost of their prescription drug purchases reaches the initial coverage limit of $2,780, an $80 increase over the 2009 Initial Coverage Limit of $2,700. In addition, people who enroll into a standard benefit plan with high prescription drug costs can begin to prepare for increases in total out of pocket expense (or TrOOP) that they must personally spend before exiting the donut hole and entering the catastrophic coverage portion of their prescription drug plan. The out of pocket threshold will increase to $4,500 in 2010 from the current 2009 value of $4,350.
"Our PDP-Planner is designed to provide an estimate based on the CMS defined standard benefit and, although most private Medicare Part D plans offer a variation of deductibles and cost-sharing options, we find that this defined standard benefit acts as a good benchmark for upcoming Part D coverage," added Dr. Johnson.
PDP-Planner is available at no cost and users have the option to have a copy of their PDP-Planner results sent directly to them via eMail. The 2009 PDP-Planner can be found at PDP-Planner.com/2010 and joins the other online tools, resources, the free monthly Medicare Part D Newsletter, and tutorials designed to help Medicare beneficiaries, advocates, advisors, and insurance agents navigate the Medicare prescription drug program.
About the Website Medicare-PartD.com
Medicare-PartD.com is one of the largest private internet resources for Medicare Part D prescription drug information. The Medicare-PartD.com website is designed and operated by Q1Group LLC (Saint Augustine, FL).
# # #