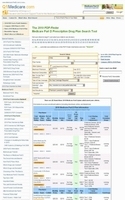 We designed our Part D plan summaries to provide a quick comparison of major changes between the 2009 and 2010 Medicare Part D prescription drug plan landscapes
Saint Augustine, FL (Vocus) October 30, 2009
The Q1Medicare.com website now offers Medicare beneficiaries and advocates several ways to gain an overview of the 2010 Medicare Part D prescription drug plans and Medicare Advantage plans. Using the 2010 Medicare Part D plan information released by the Centers for Medicare and Medicaid Services (CMS), Q1Medicare.com has prepared their PDP-Facts pages with interactive summaries of the 2010 Medicare Part D plans on a state and national basis. In addition to PDP-Facts, this year Q1Medicare.com provides the state statistical summaries in a narrative format.
"We designed our Part D plan summaries to provide a quick comparison of major changes between the 2009 and 2010 Medicare Part D prescription drug plan landscapes," notes Dr. Susan Johnson co-founder of Q1Group LLC and Technical Director of the Q1Medicare.com website. "This year we also added more details on Part D plan design changes and premium averages weighted by Part D plan enrollment or popularity."
Along with PDP-Facts, Q1Medicare.com has introduced a new feature that presents each state's 2010 Part D plan data in a textual format. This new plain text feature was designed for users who would rather read a summary of the 2010 Part D landscape data, instead of working with just the numbers.
Q1Medicare.com site users wishing to move beyond the numbers and see more details on individual Medicare Part D prescription drug plans can use the 2010 PDP-Finder tool. Medicare beneficiaries can either see all plans available in their state or narrow their search results by Part D plan name or plan features, such as premium, deductible, or Donut Hole coverage. Medicare Part D plans can also be filtered to show only those prescription drug plans in a state that qualify for the Low-Income Subsidy (LIS) $0 premium.
Another new feature on Q1Medicare.com this year is the MA-Finder that helps Medicare beneficiaries find 2010 Medicare Advantage plans available in their county. The 2010 MA-Finder also provides some basic information about each Medicare Advantage plan, such as premiums and maximum out-of-pocket cost limits. Prescription drug cost-sharing or co-payment amounts for each formulary drug tier are also available for Medicare Advantage plans that offer a prescription benefit (or MA-PDs). People with chronic health problems can also use the 2010 MA-Finder to filter their search results by Special Needs Plans.
"We are finding that our updated 2010 PDP-Finder and our newly released MA-Finder are two of our most popular site features," added Dr. Johnson. "We constantly enhance Q1Medicare.com and encourage users to let us know how we can improve their online experience."
The 2010 Medicare Part D prescription drug and Medicare Advantage plan search tools join the other Q1Medicare.com online features designed to help seniors, Medicare beneficiaries, advocates, and insurance agents navigate the Medicare Part D and Medicare Advantage programs.
About the Website Q1Medicare.com
Q1Medicare.com is one of the largest independent online resources for Medicare Part D prescription drug plan information. The Q1Medicare.com website was designed and is operated by Q1Group LLC (Saint Augustine, FL). Site users are encouraged to follow Q1Medicare on Twitter at twitter.com/Q1Medicare.
# # #