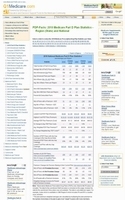 Our online Part D plan summaries were designed to provide seniors with an overview of changes between the 2009 and 2010 stand-alone Medicare prescription drug plans
Saint Augustine, FL (Vocus) October 2, 2009
Based on the 2010 Medicare Part D plan information recently released by the Centers for Medicare and Medicaid Services (CMS), over 85% of Florida's seniors and Medicare beneficiaries can expect an increase in their current stand-alone Medicare Part D prescription drug plan premiums unless they switch to lower cost plans. Medicare prescription drug plan designs are also changing with more plans now implementing initial deductibles and reducing donut hole coverage. Seniors can find a summary of Florida's 2010 stand-alone Medicare prescription drug plan changes online at Q1Medicare.com.
"Our online Part D plan summaries were designed to provide seniors with an overview of changes between the 2009 and 2010 stand-alone Medicare prescription drug plans," notes Dr. Susan Johnson technical director of the Q1Medicare.com website. "This year we also added a narrative or 'plain text' version of our prescription drug plan information so people can simply read a summary of the Part D plan changes."
According to the 2010 CMS Part D plan data, the average monthly Medicare Part D premium in Florida will increase to almost $48 or 7% above the 2009 monthly premium average of $44.62. When taking into account the Part D plan popularity, the average monthly 2010 Medicare Part D premium in Florida, weighted by the number of people enrolled in each plan, will increase to slightly over $38, a 14% increase over the 2009 weighted monthly premium of $33.35.
The good news is that the range of monthly Medicare Part D premiums narrowed in 2010, perhaps signaling some stabilization or consistency in Medicare Part D plan designs. The 2010 Medicare Part D plan premiums in Florida extend from a low of $19.80 (First Health Part D - Secure) to a high of $100.40 (Humana Complete). The 2009 monthly premiums in Florida ranged from a low of $16.70 to a high of $111.30.
Seniors will also find that, although the average monthly Medicare Part D plan premiums are increasing, the selection of 2010 Medicare Part D plans is shrinking. In 2010, Florida Part D plans will actually decrease to 49 plans from 54 Part D plans offered in 2009.
Stand-alone prescription drug plan designs will also be changing in 2010. Most importantly, the majority of 2010 Part D plans will have an initial deductible, with ten (10) fewer plans offering the $0 initial deductible. Also, only 20% of the 2010 Part D plans will offer some form of gap coverage. Although, no 2010 Part D prescription drug plan will offer complete donut hole coverage, one Part D plan (Cigna Medicar Rx Plan Three with a $59.10 premium) will offer some generic and limited brand-name drug coverage in the donut hole.
In 2010, Florida Medicare beneficiaries will again find five (5) Part D plans that have a monthly premium qualifying for the low-income subsidy $0 monthly premium benchmark. However, two of the five 2010 plans have changed since 2009. Accordingly, CMS has already noted that, because of changes in Part D plan premiums, some full low-income subsidy qualifying Medicare beneficiaries will be automatically reassigned to new Part D plans that qualify for the 2010 $0 monthly premium. However, the number of people who will be auto-reassigned into other Part D plans should be significantly lower than last year.
The newly released 2010 Medicare Part D prescription plan information can be found on Q1Medicare.com or directly at PDP-Facts.com, along with other online tools, a section of Frequently Asked Questions, and a free monthly Medicare Part D Newsletter all designed to help Medicare beneficiaries, advocates, and insurance agents navigate the Medicare Part D prescription drug program.
About the Website Q1Medicare.com
Q1Medicare.com is one of the largest independent online resources for Medicare Part D prescription drug plan information. The Q1Medicare.com website was designed and is operated by Q1Group LLC (Saint Augustine, FL). Site users are encouraged to follow Q1Medicare on Twitter at twitter.com/Q1Medicare.
# # #