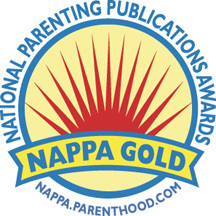 "This year's NAPPA winners focus on helping us be the best parents we can." Barbara Smith Decker, NAPPA Manager
Boston (PRWEB) June 1, 2010
The National Parenting Publications Awards (NAPPA), a division of Dominion Enterprises, has announced the winners of its 2010 Parenting Resources Competition. The 12-year-old competition highlights the best products for parents of children of all ages. After evaluating hundreds of outstanding submissions, NAPPA selected 24 products to receive its esteemed NAPPA Gold Award and 37 products for NAPPA Honors. These parenting products were chosen for their innovation, safety, quality, usefulness and the degree to which they make parenting easier.
NAPPA's expert judges and parent testers noted that this year's entries reflect trends that raise the bar on safety; promote academic skill-building through engaging activities; and target specific populations, such as families whose children need help with social skills or parents connecting more effectively with their tweens and teens.
"This year's NAPPA winners focus on helping us be the best parents we can," says Barbara Smith Decker, NAPPA manager. "Our expert judges and family testers have filtered through hundreds of entries to give us solutions to parenting dilemmas, tools for maintaining a healthy life balance, and products that save us time and energy so there's 'more of us' to share with our families and friends."
A few "stand out" products among the 2010 NAPPA winning products include:

"If Your Kid Eats this Book, Everything Will Still Be Okay: How to Know if Your Child's Injury or Illness is Really an Emergency," by Lara Zibners, MD; Grand Central Publishing, 2009; $14.99 – Written by an emergency room pediatrician, this user-friendly guide offers an informed and often humorous approach to helping parents assess the severity of their baby's illnesses and injuries.
Baby Jogger Summit XC, $399.99 – The ride in this all-terrain jogging stroller is smooth and secure with an all-wheel independent suspension, swivel/lock options for the front wheel, and hand-operated rear drum brakes.
"Kidpreneurs: Young Entrepreneurs with BIG ideas!" by Adam Toren and Matthew Toren; Business Plus Media Group LLC, 2009; $12.95 – Just in time for summer, this book helps kids decide if starting a business is right for them, which business to start, and how to take it to the next level.
MD Moms BabySilk Delicate Skin Comfort Silky Liquid Powder, MD Moms; $22 – This lotion turns into a powder as it's applied to skin. Parents can protect their baby's skin without their infant inhaling any talc or powder dust.
Internet Keep Safe Coalition Website (iKeepSafe.org), Free – This site provides engaging scenarios showing kids where risky or irresponsible behavior can lead in the virtual world, giving parents a springboard for discussion on screen time, privacy and online abuse.
For a complete list of all 2010 NAPPA Parenting Resources winners and more information about NAPPA's competitions, visit the NAPPA Press Room.
ABOUT THE NATIONAL PARENTING PUBLICATIONS AWARDS (NAPPA)
When parents see the NAPPA seal, they know they can expect a high-quality, safe, useful and expert-approved product. NAPPA is administered by Parenthood.com and Dominion Media, a division of Dominion Enterprises.
NAPPA was created in 1990 and administers two annual competitions:
Children's Products – includes toys, games, music, software/video games and Web sites, books and magazines, DVDs, and storytelling/spoken-word recordings.
Parenting Resources– includes books, CDs, DVDs, maternity and baby gear, safety products, Web sites and a wide range of innovative products that make parenting easier
For more information, visit NAPPA.Parenthood.com.
ABOUT DOMINION MEDIA
Dominion Media (DM) is a division of Dominion Enterprises Inc. DM publishes eight award-winning regional parenting magazines in markets ranging from Boston to Los Angeles. These free publications are distributed where parents live, work and play – through local libraries, private schools, preschools, hospitals, doctors' offices, museums and specialty retailers. DM's monthly print circulation is approximately 1 million, with an audited nationwide readership of about 2 million. DPM also owns and operates the award-winning Parenthood.com site.
ABOUT DOMINION ENTERPRISES
Dominion Enterprises is a leading marketing services company serving the automotive, enthusiast and commercial vehicle, real estate, apartment rental, and employment industries. The company's businesses provide a comprehensive suite of technology-based marketing solutions including Internet advertising, lead generation, CRM, Web site design and hosting, and data management services. The company has more than 40 market-leading Web sites reaching more than 17.6 million unique visitors monthly, and more than 280 magazines with a weekly circulation of 2.4 million. Headquartered in Norfolk, Va., the company has 4,900 employees in more than 186 offices nationwide. For more information, visit dominionenterprises.com.
###